Grandmaster Priyadharshan Kannappan is one of India's most highly qualified chess players in the country with both a bachelor's and a post-graduate degree from Lindenwood and Webster University respectively, both in the United States of America.
He received chess scholarships for each one and got a chance to experience the student-life as well as the professional chess scene in the States. Now, after spending seven years in the West, Kannappan has returned to his homeland and is working in a start-up company based in Gurugram, India.
In this exclusive interview, he shares his experience of becoming a Grandmaster and earning both his degrees, all while he was in the US. So, now moving on to the questions.
1. Firstly, congratulations on completing your master's degree from Webster University. With this, you are one of the most qualified chess Grandmasters in the world. Can you share your experience of studying and playing in the States?
Kannappan: Thanks a lot, Devanshi for the wishes. Juggling college and chess was undoubtedly a gruelling experience, but it was a very satisfying one. I had to judiciously plan my college classes so that I could travel to participate in the weekend tournaments, which is how 90% of the events in the U.S. take place.
My experience was very pleasant and enjoyable as I chose classes that are academically challenging, and on topics that I wanted to learn. So, you can basically say that I had fun throughout the week: on weekdays, I enjoyed learning in the college classes, and on the weekends I had a great time on the chessboard playing different tournaments.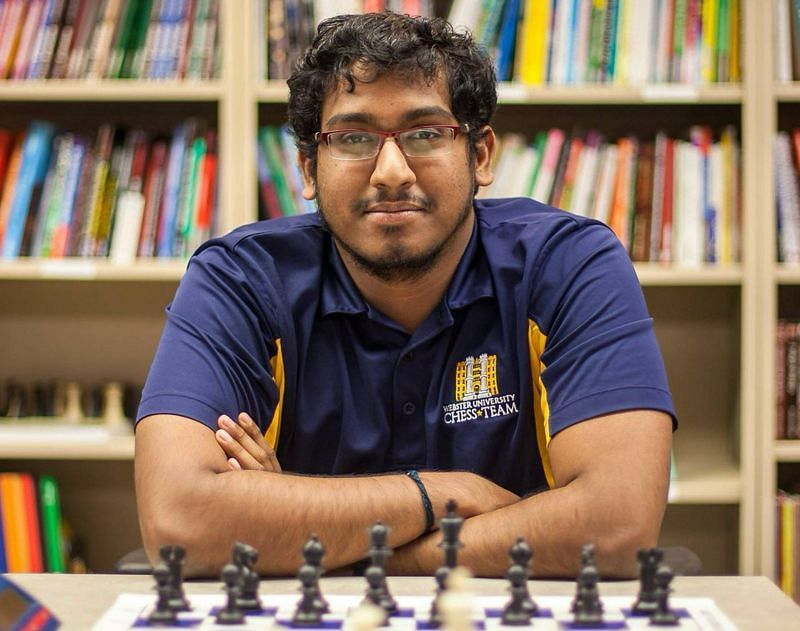 You have played for six years in the United States Chess Federation (USCF) tournaments. How was the exposure different from that of the Indian tournaments?
Kannappan: U.S tournaments were intense, and you need to play more on your instincts as the games were longer, with each one averaging 5-6 hours and two on each day. It certainly took some time to get used to this energy-sapping schedule.
The other big difference was that the pairings were normally published only 30 minutes before the game, which gives very little time for opponent preparation, so you had to rely more on your instincts and play a lot of more side-lines, so that you wouldn't get caught in any of your opponent's pet lines.
Another difference was that most events used time controls with delay and not the increment settings, so you had to get used to how the delay worked, as it's an entirely alien concept outside of the U.S. In my first ever game in the U.S, I had no idea as to how the delay system worked, and and I lost a winning position on time.
From a quality viewpoint, the two games per day pushed you to play smart chess than good chess. You tended not to try to find the best moves, every single time, and instead,you focused more on playing practically without blundering. From a rating perspective, there were a considerable number of underrated players in the U.S, like in India, so you had to be very careful to not blunder at any point in the game.So,that was one thing that was similar to playing in India.
What made you pursue your bachelor's and master's in the US, and do you recommend this to your other chess players? What's the process like to apply?
Kannappan: I got stuck in chess after I achieved my IM title in 2009 and didn't show much of an improvement in my rating till 2012, so I decided to do things differently and explored quite a bit. That's how I got interested in pursuing my studies in the United States.
I actively researched about universities in the U.S which offer chess scholarships, and I was also ably guided in this process by my brother K. Prasanna and GM Magesh Chandran Panchanathan, who is from Madurai and had also pursued his studies in the U.S with a chess scholarship.
I wouldn't recommend to go to the U.S and juggle chess and college if you are an aspiring player with dreams to become the next world champion. Going for college classes and keeping good grades in the U.S requires some serious effort, which can distract you from your focus of becoming an elite chess player (above 2700).
If you are looking to learn new life skills, to get a degree, and also at the same time have fun while playing chess, then going to the U.S. is a great opportunity as it certainly allows you to do all the things in the right proportion.
The process to apply starts by finding out which universities offer a chess scholarship. This is followed by being a very strong IM or GM with excellent academic credentials. If you have these requirements,then the university will ask you to take the SAT/GRE, based on which degree you are going for (SAT for undergraduate and GRE for postgraduate), and also take the TOEFL examination, which is an English language test for international students.
My suggestion would be to start this process at least 1.5 years before you finish your high school so that it gives you enough time to take the entrance examinations and also create additional paperwork as required by the university, including the visa formalities.
These universities are now attracting strong players from across the world, so I would suggest that you apply early and apply to all the universities that offer such scholarships,so that if one application fails, you have a backup option.
You became a GM while you were in the States. Can you share the most important details on how you became a GM? How did you train, the people who helped you, etc.? Also, how did it all begin this quest to a GM?
Kannappan: The most important disadvantage was my inability to play in nine-round events during my classes, so I had to play such tournaments only during my summer break, which limited my opportunities to compete in norm-based competitions.
My training to become a GM was filled with enormous support from Lindenwood University, where I did my undergraduate degree, as they gave me the opportunity to learn from world class coaches including Yasser Seirawan, Ronen Har-Zvi, Alexander Goldin, etc., which helped me to expand my chess knowledge. I should also express my gratitude to the Chess Club and Scholastic Center of St.Louis that allowed me numerous opportunities to play in their closed events and open tournaments with good prize funds, which helped me to self-sustain myself in the U.S.
I made my first two norms back to back in the Summer of 2014, in the Chicago Open and the Philadelphia International. The third norm was too tough to get, as FIDE required one of your norms to be made from a six-day event, which is a rarity in the U.S.
So, I had to wait for two years to complete my third norm and also cross 2500 in the Philadelphia International 2018. I remember that many players in the U.S would tell me that it's impossible to complete the GM title requirements by playing purely in the U.S, so am very proud of the fact that I achieved all the rating and the norms in the U.S.
Any player who takes chess seriously aims to be a Grand Master, so the quest to become a Grand Master began the day I started playing chess, and I am very happy that I was persistent for seven years to get my GM title after completing the requirements for the IM title in 2009.
You were also writing on the side as well as managing a PRO Chess League Team (Webster Windmills). How did these additional responsibilities feel like? How did you handle everything?
Kannappan: I really enjoy the creative process involved in writing, so I used to write blogs even when I was in India, so that habit continued with me as I moved to the States. I started writing for the local journals, some chess websites and then wrote about collegiate chess for the US Chess Federation website.
It was indeed a big honour as I got to contribute to the American Chess Magazine for two back to back editions in 2018. I was not just managing the Webster Windmills team, but I would also do commentary every week when the team was playing.
As a manager, I had to be there with my team during the matches, so I thought how could I find a better way to use my time, and that's how I started doing online commentary of the matches, and even though we would get a maximum of 10 viewers for our commentary, I really enjoyed the process of talking in front of a camera.
Outside of this, I was also leading two campus clubs in my university, as I was the President of the Indian Student Association and the Webster University Chess Club, which gave me a lot of opportunities to interact with people from various walks of life, and to experience cultural diversity and to do my share of contribution to the campus life.
All these things were possible, as I had a fixed schedule, and I enjoyed all these things that I did during my time in Webster. It was indeed an enriching experience as I get to use many of these skill sets that I learned in Webster in my job at Nurtr.
What was your daily routine like when you were in the States?
Kannappan: I didn't have any such as a fixed routine, but during weekends I was completely immersed in tournaments and in training. On the weekdays, I would try to spend at least 2-3 hours a day on chess, and the remaining time was spent on attending classes and doing other activities like managing the clubs and meeting people.
Now that you're back, what do you think is the most important thing that you would like to pursue? Also, where do you see yourself in the next two-three years?
I am currently a product manager in Nurtr, which is an exciting ed-tech startup based out of Gurugram, with a mission to fulfill 7.7 billion dreams. Nurtr was a nice intersection of my interests as I got to use my educational as well as my chess expertise to make the chess education easier and enjoyable for the young kids.
Chess has shaped every single decision of my life, so I feel like, I should contribute back to the game, and make it more accessible and a more popular sport in India. I don't really want to do long-term planning, as the world is dynamic and fluid making long-term plans can be changed due to some overnight decisions. So, for now, I would like to be the best I can every single day and contribute as much as I can in the field of chess.
You have also signed up to play for the Delhi Dynamite team for the third season of the PRO Chess League. Can you share your thoughts about the same?
Kannappan: The predecessor of PRO Chess League was the U.S Chess League, where I won three player awards in 2012 (Most Valuable Player, Rookie of the Year, Board 2 Star Player). I have always felt very comfortable with this online format, and this led me to managing the Webster Windmills when it became the PRO league.
So, it was a natural progression that when I moved back, I tried to be a part of the team that's physically the closest to me. I did get two other offers from some teams in the U.S, which my friends are a part of, to become a Free Agent for their team, but it made the most sense to be part of a local team due to various factors like the start time of the game and the ability to feel connected to the team.
What do you look forward to achieving with the Delhi Dynamite team? How do you think that they could replicate or further the performance of your previous team- the strong Webster Windmills?
Kannappan: Webster is one of the strongest teams in the Pacific division, and in both the seasons we were the first teams to make it to a playoff, but then got knocked out in the Division Championship in 2017 and Division Semi-Finals in 2018, and Delhi also had a very similar trajectory in the two years.
I am looking forward to being part of a team, which is driven and ambitious, and I am sure that the Delhi Dynamite's chief strategist IM Vishal Sareen will have his lineups and strategies all ready to go and win the PRO Chess League in 2019. I am looking forward to having fun and competing as a team, which is always a great experience.
What advice would you like to give to aspiring players?
Kannappan: Enjoy the learning process and try your hands at various things. Life is too big, and that's what I have experienced. Things that I tried for fun like commentary is translating into a handy skill at this point.
Never shy away from exploring new avenues, as you never know what life throws at you in the future. So, it's imperative to be multi-skilled. At the end of the day, if you get satisfaction from whatever task you are doing, then that's all that matters!
---
Share your thoughts about this interview in the comments below!