Chess: Srinath, Gagare steal show in round two
596 //
04 Dec 2012, 23:31 IST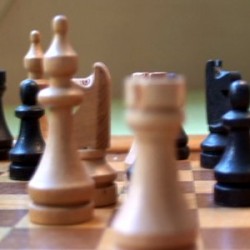 Kolkata - International Master N. Srinath and double IM norm holder Shardul Gagare hogged the limelight defeating David Alberto of Italy and Ahmed Adly of Egypt respectively in the second round of Rose Valley open International Chesstournament here Tuesday.
The important victories for these youngsters in the early stage of the tournament have set the stage for them to vie for their respective norms even as the road ahead is only going to get tougher.
On a day the higher ranked stars found it difficult against Indian opposition, top seed GM Radoslav Wojtaszek of Poland and local stalwart Surya Shekhar Ganguly however, kept their head high.
Wojtaszek had to work hard for the second day running before he could cruise home against M Shyam Sundar while Ganguly had it easy against Shreyansh Shah.
Former World junior champion and fourthseed GM Abhijit Gupta (2662), did not take any risk against Russian GM Alexander Fominyh after the latter played it too safe with his white pieces. Arriving late for the game, Fominyh was lucky just by a few seconds not to concede a walkover.
It turned out to be a tough day for second seed Anton Korobov of Ukraine who was held to a draw by IM Vishnu Prasanna.
Title aspirant Ganguly did not have to sweat much to overcome Shreyans K. Shah who played white.
One of the lower ranked players of the tournament, Shah opened with King's pawn which is also the favorite opening of 5-time World Champion V. Anand.
Working as Anand's second for last four years, Ganguly took little time to get an advantage in the middle game and romped home in just 27 moves.