Farrukh training helping players attain new heights
77 //
21 Jun 2018, 17:18 IST
As the dignitaries, players and parents came together and shook hands and thanked each other for the success of their initiative, one figure stood to the side, away from the lights. He was flanked by an official who asked him if he needed anything, but he politely refused, though one could see he was getting slightly fidgety. Soon, the parents and players approached him and thanked him for all the help, and suddenly, he came to life, all signs of nervousness and uneasiness gone.
Amonatov Farrukh thanked them back for their hospitality and acceptance, and they started chatting away to glory, all in one boisterous cacophony of noise.
Farrukh, the first and so far, only chess player from Tajikistan to ever make the Grandmaster norm, surprisingly blended in well with his hosts. And why wouldn't he, for he is a regular in the Indian chess scene and has won a few events in the country as well, with the most recent one coming at the Mumbai Mayor's Cup at the beginning of this month. The 40-year-old loves everything about the country, especially its food, and he had a great time teaching the players during the recent chess training camp, conducted by the Andhra Pradesh Chess Association (APCA) and Sports Authority Andhra Pradesh (SAAP) under the aegis of the Government of Andhra Pradesh, from June 11 to 17 at the Hotel V Royal Park in Guntur.
"I like India, and everything that it has to offer. I love the food, nature, and especially the sun! Back home, we do not see too many sunny days, so it's great to be able to see and feel it, and it makes me comfortable. I've been here many times and participated in many events as well, but the camp here in Andhra Pradesh has been a joy to be part of," he said.
So how did his association with the APCA start? "Honestly, I was lucky to be invited by Mr KN Gopal (APCA General Secretary) to come and lead this chess camp. There are many GMs around the world whom he could have chosen, but he saw something in me and asked me to come in, and I could not say no. The fact that your food is awesome, especially biriyani — which is one of the best foods ever — is an added bonus, and I have enjoyed my time here," Farrukh revealed.
The GM was satisfied with what he saw from the players. "The kids are very talented here, and it's been a special camp for me. It is different teaching beginners and students like these — who are at a good level — because it also gives you an opportunity to learn from them. I know they will improve further after this, because they have worked hard during the camp, and will continue to do so. They may not understand now, but they absorbed the knowledge, which will help them in throughout their careers. From APCA and my side, we did everything, and it is up to them to use this opportunity and knowledge. They will surely get better and show better performances in upcoming events, that I can assure you."
In Tajikistan, there has not been an improvement in chess, as seen from the fact that there have been no GMs after him from the country. And Farrukh feels it is because of a lack of exposure. "It's been a while since I became GM, and that too I became one when I was around 22, which is much slower than you Indians!
"But chess is not doing well in Tajikistan, and it's tough to point out what the exact problem is. There are many talented players in the country, but most of them are International Masters (IMs), and do not get a chance to break that certain glass ceiling because the competition plateaus there. They do not travel outside to compete against the best of the world, and that is never a good thing. Only one guy plays outside, and that too very rarely. Only by going outside and playing in strong tournaments can you improve. Take for example these (AP) kids, they will be going out for training and playing in events, and that is always something I would advocate," he noted.
Having broken through as GM, he moved to Russia, where he has been residing and playing for the past 2 years, and this was a positive change for the player-turned-coach. "It (becoming GM) was so many years ago that I barely remember, but honestly, I had the talent to become one. As I said, there weren't so many tournaments there, but when I moved to Russia, my whole perspective changed, and I became one of the fastest to become GM, thanks to playing some really strong players on the first board," he said.
Someone who loves the blitz format, Farrukh feels he is more suited to it. "I like blitz, and my results in this format have also been much better than classic. Perhaps it is because I'm a fast player, but it also depends on each player. Some prefer those classical, long games, while others like me prefer to play fast. I would definitely say that the long game is slightly boring, and it's something for the younger generation."
Ask him how it was pitting brains against the likes of Magnus Carlsen and Viswanathan Anand, and he gets excited. "It was a big experience playing such great players, kind of like playing your idol. Growing up, I idolized Anand, and suddenly I was meeting him and playing against him, and I could see he was not just at a different level, but a different space as well. It is not just a pleasure playing against him, but also a lesson. So yes, great players mean great experiences are taken away."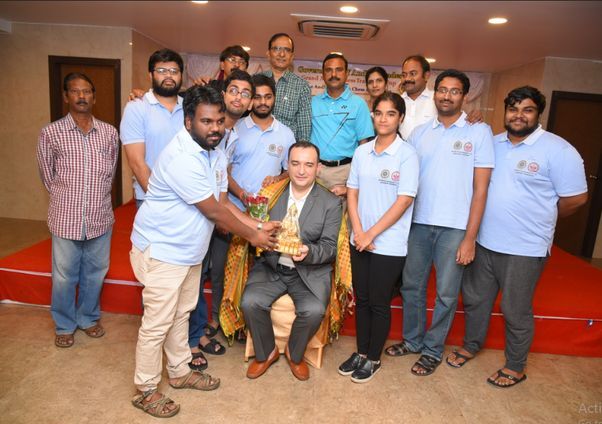 Getting back to the camp, Farrukh said he spoke to each individual player and let them know what their weaknesses were and how to improve. "When I spoke to them today also I told them how they should look to work on their weaknesses and ensure that they improve on a daily basis. One player from Guntur was very aggressive and always wanted to crush his opponents. But it's not possible every game, and I told him sometimes it is good to slow things down and take the technical route.
"Like in every sport, it's not always win, win, win. Sometimes, a draw is also a good result. Another girl needs to focus on her endgame, and this is the problem with the younger generation. They have great opening and middle games, but no one is patient enough to work and focus on their endgame. They always want to win fast, but it's not always possible, and that's where the endgame comes into play. So I told her to focus on this, and I gave everyone such small things to work on, and we will wait for their results in tournaments to see how they've taken my advice," he noted.
Throughout the whole camp, the focus was on moving from the IM to GM level. "Over the course of the camp, the idea was basically to help these IMs understand their opponents and move towards that coveted GM norm. These players focus only on their own ideas, which isn't right. If you want to go up, you must focus on the opponents' ideas, and think about what he/she wants to do, kind of premeditate. It was a big news for them, but it is the only way for them to improve.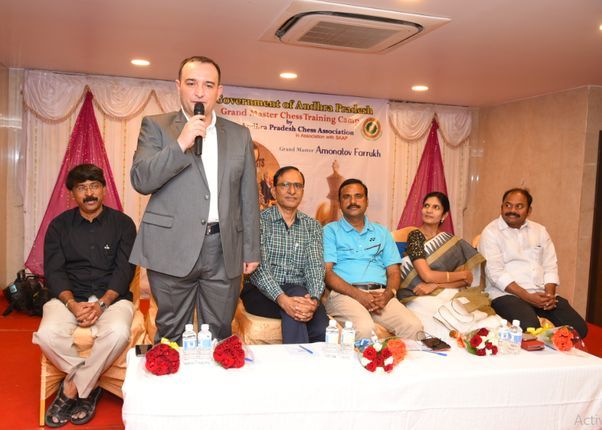 "For an IM to become a GM, he/she needs to achieve three norms, i.e, three successful tournaments. It can be done over two-three months, if you're playing well. Let's see how they improve and make use of their talent and our guidance to move onto the next level."
Saving the best for the last, Farrukh had only words of praise for the organisers. "Mr Gopal has been the heart of APCA and this camp. He had few days to prepare but did a fabulous job and took care of the small things like projectors, tickets and T-shirts also," said the GM who will next be seen in Goa, for both a training camp and event.