Mahalakshmi brings down Grandmaster Grover
605 //
23 Nov 2012, 23:28 IST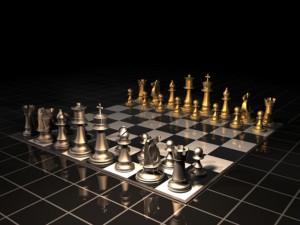 Chennai - Woman FIDE Master M. Mahalakshmi, a student of Velammal Group of Schools, caused a big upset bringing down Grandmaster Sahaj Grover in an exciting Nimzo?Indian game in the Apollo Engineering College Commonwealth Chess Championship that began here Friday.
After a sedate start, Mahalakshmi went for a king?side assault that had the Delhi?based Grandmaster in trouble.
An exchange sacrifice in the 31st turn could not stem the queen, rook and bishop battery and Grover gave up, faced with a collapsing position after 41 moves.
Incidentally, Mahalakshmi had won the gold medal in the under?14 girls section last week in the World Youth Chess Championships at Maribor, Slovenia.
Meanwhile, top seeded Grandmaster Sergei Tiviakov of the Netherlands was off to a good start winning both his games as he shared the lead at 2.0 points with Grandmasters Oleksienko Mikhailo (Ukraine), Marat Dzhumaev (Uzbekistan), Lintchevski Daniil (Russia), S.P. Sethuraman, M.R. Venkatesh, M.R. Lalith Babu, S. Arun Prasad, R.R. Laxman (all India), International Master Oliver Dimakiling (Philippines) and Woman FIDE Master M. Mahalakshmi among others.
Newly crowned National Premier champion and International Master G. Akash (ELO 2404) suffered a stunning defeat in the hands of 16?year?old Madhurima Shekhar (ELO 1959).
The French game developed into an interesting tussle and Madhurima equalised quickly and the queenless middle?game slowly moved in her favour.
Giving up his rook for bishop on the 31st turn could not solve Akash's difficulties and faced with a mate, he resigned on 40th move.
A big win for the Delhi girl and good show from here, will help her to strike a norm.
Earlier, the first round packed a few surprises as sixth seeded Grandmaster Mark Paragua (ELO 2532) saved himself from an unpleasant position against Indian junior S. Rohit Vassan (ELO 1762).
The Closed Sicilian game saw the Grandmaster pressing for the initiative, even as Rohit hung on with the material thrown upon him.
An exchange sacrifice on the 40th move put the Indian on the front and Rohit found himself four pawns up for an exchange by move 51.
But a series of inaccurate moves saw Rohit conceding a draw holding wrong coloured bishop and a pawn, the queening square of which the Grandmaster had covered.
In another morning round upset, Adarsh Srivastava (ELO 1737) held International Master Shyam Sundar (ELO 2484) to a draw.
Round 2 results: (Indians unless specified): Sergei Tiviakov (Ned) 2 bt Harsha Bharathakoti 1, V Pranavananda 1 lost to Adly Ahmed (Egy) 2, B Adhiban 2 bt Sumit Grover 1,S Harini 1.5 drew with Lintchevski Daniil (Rus) 1.5, Oleksienko Mikhailo (Ukr) 2 bt S R Harikrishna 1, Marat Dzhumaev (Uzb) 2 bt Gajwa Ankit 1, Mulay Pratik 1 lost to M R Lalith Babu 2, S P Sethuraman 2 bt C Sai Vishwesh 1, K Gopalakrishnan 1 lost to M R Venkatesh 2, S Arun Prasad 2 bt Rohan Ahuja 1, R R Laxman 2 bt S Yogit, L N Ram Aravind 1 lost to Oliver Dimakiling (Phi) 2, M Mahalakshmi 2 bt Sahaj Grover 1, G Akash 1 lost to Madhurima Shekhar 2.
Round 1: Daniel Raja N lost to Sergei Tiviakov (Ned), Adly Ahmed (Egy) bt S Jayakumar, Vikash Kumar Dwivedi lost to B Adhiban, Linthevski Daniil (Rus) bt Teh De Juan (Mal), Aparna Raja lost to Oleksienko Mikhailo (Ukr), Mark Paragua (Phi) drew with Rohit Vassan S, Ding Tze How Dilwen (Mal) lost to Marat Dzhumaev (Uzb), M R Lalith Babu bt S S Dave, Rajaryan KUvelkar lost to SP Sethuraman, M R Venkatesh bt A Prathish.