Marat retains top slot in chess meet
583 //
06 Dec 2012, 23:46 IST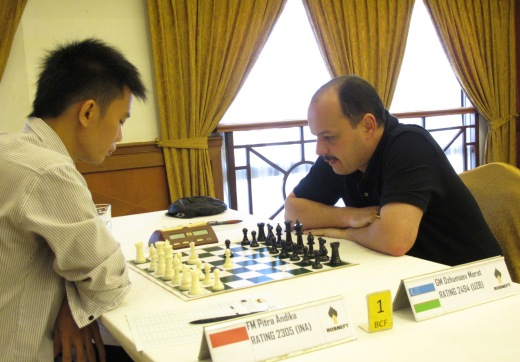 Kolkata - Uzbek GM Dzhumaev Marat (FIDE rating 2530) continued his fine run as he upset second seed Ukrainian GM Anton Korobov (2702) to retain sole top position with all win record at the end of round four of the Rose Valley Open International Chess Tournament here Thursday.
Super Grandmaster Korobov, considered a title contender, could not follow up on his surplus pawn and bishop and ultimately lost.
IM Vidit Santosh Gujrathi (2527) and GM Mikhailo Oleksienko (2573) of Ukraine were jointly in the second position with 3.5 points each.
Vidit outwitted compatriot IM Narayanan Srinath (2439) while Oleksienko got a hard fought win over Indian GM Deepan Chakkravarthy (2487) at the Alekhine Chess club.
Top seed GM Radoslaw Wojtaszek (2734) again lost a valuable half point by drawing his game against Indian GM M.R. Venkatesh (2520).
Thirteen players, along with Radoslaw Wojtaszek, GM Suryasekhar Ganguly, GM Abhijit Gupta, and GM Ni Hua (2660) of China jointly shared the third slot with three points each.
After winning in the previous two rounds, GM Suryasekhar Ganguly (FIDE rating 2630) had to content with just half point against fellow Indian GM Vaibhav Suri (2494) after 35 moves.