Rose Valley chess: Gujarathi still in the lead
656 //
09 Dec 2012, 21:30 IST
Kolkata, Dec 9 (IANS):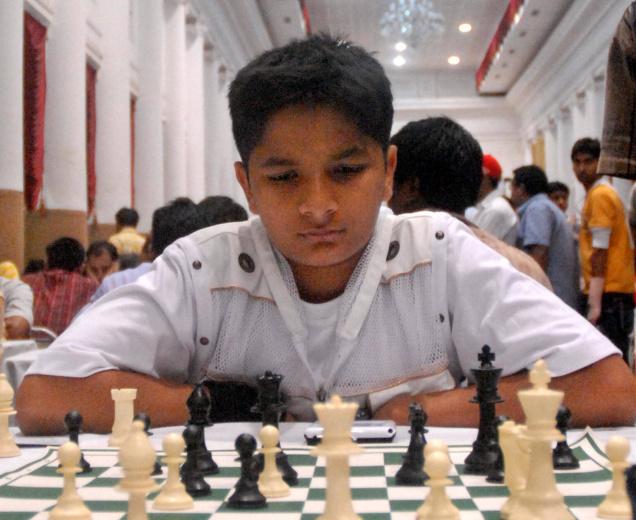 Grandmaster-in waiting Vidit Gujarathi stayed ahead following a draw with local Grandmaster Deep Sengupta in the seventh round of Rose Valley Open International Chess tournament here at Gorky Sadan.
Taking his tally to 5.5 points out of a possible seven, the youngster maintained his slender half-point lead after a spate of draws on top board.
Ten players follow the leader half a point behind. They include GM Radoslaw Wojtaszek of Poland, GM Dzhumaev Marat of Uzbekistan and Indians Deep Sengupta and S.P. Sethuraman.
Top seed Wojtaszek was held again as he failed to capitalise on a slightly better middle game advantage against Sethuraman. The Indian defended well and earned a creditable draw at the Alekhine Chess Club.
In notable results for aspiring Indians, Debashish Das, and Swapnil Dhopade came close to earning their Grandmaster norms after another day of hard work. While Dhopade played out a draw with erstwhile leader Marat, Das snatched a half point from Ni Hua of China.
Local star Suryasekhar Ganguly had yet another draw with M. Shyam Sundar who is also on the verge of becoming a Grandmaster from this tournament. After Sunday's result, Shyam Sundar is just one point shy of attaining the 2500 ELO rating barrier which takes him to the status of Grandmaster.
With just four rounds to come, the event is wild open and only the next two rounds may see a decisive turn around for the higher ranked players.
Anton Korobov – the other 2700 club member apart from Wojtaszek – is also within striking distance of the leaders having 4.5 points and giving him company in this score group are star players like Ganguly, Ni Hua, Sandipan Chanda and Italian champion Alberto David.