The NCAA Tournament is beginning to wind down, and the top women's programs have advanced to the Sweet 16. While there may have been fewer upsets compared to the men's bracket, the tournament has not been shy on stretches of exciting basketball.
Of the 16 remaining teams, only four entered the tournament seeded lower than fifth. Both the Greeneville 1 and Seattle 3 regions have the 1-4 seeds still alive. Regardless, there is plenty of high-level basketball to be played and a number of key matchups that seem destined to go down to the wire.
NCAA Women's Tournament: Top five remaining teams:
#5, Villanova (30-6)
Set to face No. 9 seed Miami (21-12) in the Sweet 16, No. 4 Villanova has been an exciting program to follow all year. The Wildcats are headlined by Maddy Siegrist, who leads the country in scoring at 29.2 points per game and has set a number of records during her historic career. The Big East Player of the Year is the centerpiece of the Villanova offense and can score the ball any way she wants.
The Wildcats also have an effective team defense holding teams to just 58.4 ppg, which is the 43rd-best rate in the nation. They force the second-most steals per game and limit opponents to the 27th-fewest 3-pointers per game.
After taking down Cleveland State 76-59 and Florida Gulf Coast University 76-57 in the first two rounds, Villanova will face its toughest challenge against Miami.
#4, LSU (30-2)
LSU has one of the more balanced styles of play across college basketball. The Tigers rank fifth in the country in scoring at 83.2 ppg while allowing the 27th-best rate on the defensive end at just 57.0 ppg.
The Lady Tigers are led by Angel Reese, who averages 23.8 points, 15.7 rebounds and 1.6 blocks per game. Their dynamic backcourt of Alexis Morris and Flau'jae Johnson also combines for 26.4 ppg.
LSU, seeded third, will play No. 2 seed Utah (27-4) in the Sweet 16. While the Lady Tigers have outplayed expectations throughout the year, there should be no doubts about what they are capable of.
#3, Iowa (28-6)
Expect a shootout when facing Iowa as the Hawkeyes lead the NCAA in scoring at 87.4 ppg while allowing 70.4 ppg, which is the 314th-best rate in the country. This high-powered offensive attack has led them to 169 points through their first two matchups in the tournament.
The Hawkeyes, seeded second, will face No. 6 seed Colorado (25-8) in their Sweet 16 matchup. They will continue to lean heavily on junior Caitlin Clark, who ranks third in the country in scoring at 26.8 ppg. She also adds 8.6 apg, leading the NCAA, along with 7.3 rpg.
#2, UConn (31-5)
Always in the mix for the best women's team in the country, there is a lot to like about UConn again this year. Geno Auriemma's squad won the Big East once again this season.
They rank 25th in the country in scoring, 45th in points allowed, third in field-goal percentage and seventh in field-goal percentage allowed. The Huskies have a well-rounded team with five players averaging over 11 points per game.
After No. 2 seed UConn cruised past Vermont and Baylor by 15-plus points in the first two rounds, they will face No. 3 seed Ohio State (27-7) in the Sweet 16.
#1, South Carolina (34-0)
The odds-on favorite to win the NCAA Tournament is South Carolina. The Gamecocks, the defending national champions, have taken down Norfolk State and South Florida by a combined score of 148-85 through the first two rounds of the tournament.
They are led by senior guard Zia Cooke, who is averaging 15.3 ppg, 2.0 apg and 1.8 rpg. While some of the numbers are inflated due to blowouts, South Carolina has 10 different players averaging 11 or more minutes per game.
Look for the Gamecocks to lean on their depth and continued dominance as they face off against No. 4 seed UCLA (27-9) in the Sweet 16.
NCAA Women's Tournament: Top five remaining players
#5, Aliyah Boston, South Carolina
Regarded as one of the top players in the country coming into the season, it has been a bit of a let-down for Aliyah Boston. But this does not change the fact that she is among the most impactful players across the sport. The 6-foot-5 senior is a defensive anchor for South Carolina while still producing on the other end.
While it is her worst statistical season since her freshman year, Boston is still averaging 13.3 ppg, 9.7 rpg and 2.0 blocks per game. Look for her to set the tone for the Gamecocks and take her game to another level as the biggest stage approaches.
4, Diamond Miller, Maryland
A 6-3 guard, Diamond Miller uses her body well and has a balanced overall game. She is terrific at running fast breaks, skilled at finding cutters and can create for herself as well. She is averaging 19.7 ppg, 6.5 rpg and 3.0 apg.
Miller suffered a knee injury last season which limited her to 18 games and a drop in production. She is back with a vengeance this year and will now set her sights on a matchup with Notre Dame. Maryland will need strong production from her as has been the case throughout the season.
#3, Elizabeth Kitley, Virginia Tech
A 6-6 senior and reigning ACC Player of the Year, there were high expectations for Elizabeth Kitley coming into the year. She is a master in the post with elite body control, awareness and footwork. She is averaging 18.8 ppg and 10.2 rpg. Kitley has expandedher range slightly from years past to help open things up as well.
The Virginia Tech standout is also impressive on the defensive end. She averaged an impressive 2.6 bpg, and her instincts and body control have allowed her to stay out of foul trouble. The Hokies will need her two-way dominance to continue, and she has looked up to the challenge throughout the season.
#2, Angel Reese, LSU
Angel Reese burst onto the scene this year after transferring from Maryland. Despite having more of a reserve role with Maryland, Reese has stepped to center stage for LSU and delivered. She has produced a nation-leading 28 double-doubles and averages 23.8 ppg, 15.7 rpg and 1.6 bpg. The 6-3 sophomore also leads the country in offensive rebounds and free throws.
LSU has exceeded expectations this season, and Reese is a major reason why. Look for her to continue embracing her role and be the driving force for the rest of the tournament.
#1, Caitlin Clark, Iowa
After recently being crowned Big Ten Player of the Year and Tournament MVP for the second consecutive year, people are running out of things to say about Caitlin Clark. The three-time All-American leads the country in assists and 3-pointers while coming in third in scoring. Clark is able to find an impressive balance as a scorer and playmaker and punishes teams in whatever way she sees fit.
Clark is averaging 26.8 ppg, 8.6 apg and 7.3 rpg. Anywhere within the halfcourt is within her shooting range, and she can stretch a defense out with her long-range ability. Iowa will go as far as Clark can take them, and the school should feel confident about that.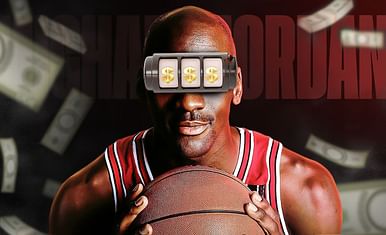 How did Michael Jordan's gambling "habit" taint his image?
Edited by Joseph Schiefelbein