The Kansas Jayhawks are preparing to be without coach Bill Self for the opening round of March Madness. He is recovering from health issues, and it's expected that assistant Norm Roberts will take his place.
Kansas (27-7), the No. 1 seed in the West region and the defending national champion, has been one of the most impressive teams in college basketball this season. They finished first in the brutal Big 12.
The Jayhawks have an impressive roster that features a number of veterans. These players have an extended amount of experience in the NCAA Tournament and will have to lean on each other, as they will be without their general.
Kansas opens the tournament against No. 16 seed Howard (22-12) at 11:00 a.m PT on TBS.
---
Kansas Jayhawks await return of Bill Self to sidelines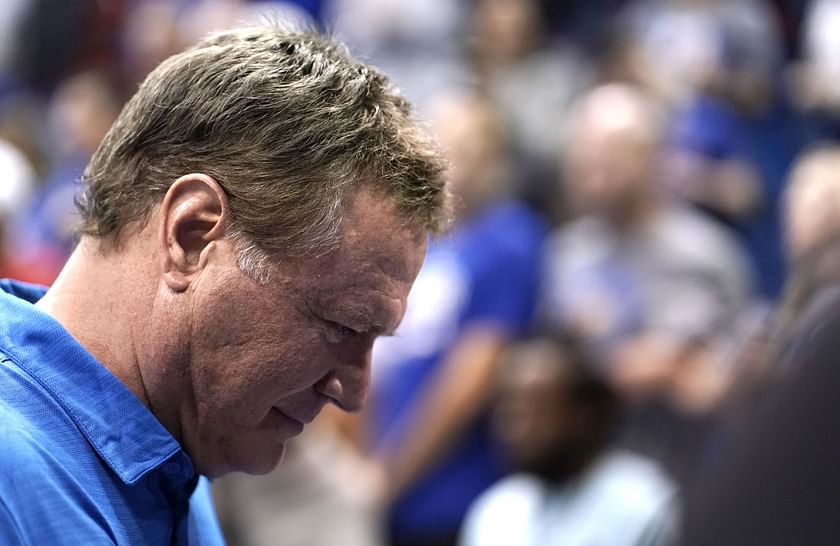 While the Kansas Jayhawks will be without Bill Self in the opening round, the hope is that the coach can return as soon as possible. The Jayhawks have the roster depth to make a lengthy run in March Madness.
The team is led by junior wing Jalen Wilson. The talented forward has been one of the most productive players in college basketball this year. Wilson has the ability to be an offensive focal point while also making an impact on the boards. He's averaging 20.1 points and 8.4 rebounds per game while shooting 42.5%.
Another name to monitor closely is freshman wing Gradey Dick. One of the country's most dangerous outside shooters, Dick is expected to be a lottery selection in the 2023 NBA draft. The 6-foot-8 freshman is averaging 14.1 ppg and 4.9 rpg while shooting 39.9% from 3-point range.
There are also a number of versatile assets on the Jayhawks roster who should be crucial to their tournament success.
Senior guard Kevin McCullar is one such important piece. A versatile defender at 6-6 with the ability to make winning plays, McCullar has been a key component for the team, averaging 10.7 ppg, 7.7 rpg, 2.3 apg and 2.0 steals per game.
Keep an eye on sophomore forward K.J. Adams as well, who has been one of the top defenders for the Jayhawks. Listed at 6-7, Adams' defensive ability has made him one of the top players on Kansas. He's played every position and will often guard the opposing teams' most dangerous players. Adams is averaging 10.4 ppg and 4.4 rpg while shooting 63.1%.