Jordan Hawkins and the third-ranked UConn Huskies (11-0) have been a dominant force in college basketball, trending upwards in a hurry.
The Huskies' roster has impressed, especially against tougher opponents. One of the top players has been sophomore guard Jordan Hawkins.
Coming into season, Hawkins was viewed as a potential "breakout candidate" by NBA scouts. He averaged 5.8 points per game as a freshman in just 14.7 minutes.
After his first six games this season, Hawkins was showing intriguing flashes. He was averaging 11.2 ppg while shooting 36.4%. But in his last three games, Hawkins has turned it up to another level. He's averaging 21.0 ppg while shooting 54.2% from 3-point range.
---
Jordan Hawkins and UConn buzzing in college basketball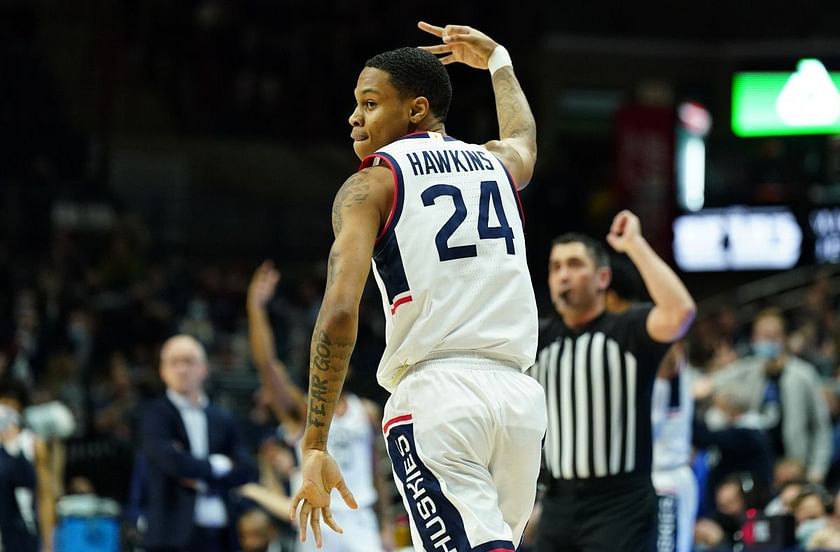 At 6-foot-5, UConn sophomore guard Jordan Hawkins has the tools to be a dangerous threat in the NCAA. But it's the upside that Hawkins, who was a consensus top 50 recruit coming out of prep powerhouse DeMatha Catholic, offers that makes him a fascinating talent for the next level.
Hawkins is a dangerous threat from beyond the arc. He has the tools to be a dynamic scorer, especially when running off of screens. Hawkins can get his shot up quickly and can hurt the defense from well beyond 3-point range.
The UConn Huskies continue to be one of the top teams in college basketball. They look to have the most firepower in the country, especially with Jordan Hawkins starting to blossom. If Hawkins can continue to put up consistent production, he's going to be one of college basketball's top scoring threats.
Time will tell if the Huskies can keep up their impressive play. With the NCAA season nearing conference play, the competition level is about to get tougher for all teams. That includes the Huskies, who are an impressive 11-0. UConn was last ranked as high as third in the regular season in March 1989.
UConn, which has won four national titles, opens Big East play against Butler (8-3) on Saturday before upcoming showdowns against Georgetown (5-6) and Villanova (5-5). After that, they will hit the road for a pair of daunting games against Xavier (7-3) and Providence (8-3).
Hawkins will be on the radar of all opponents as they hope to slow down the talented sophomore. If he can keep playing at his current level, he will be on the radar of all NBA personnel as well.
Edited by Joseph Schiefelbein