5 reasons why Bangladesh can win the T20 World Cup
1.13K //
25 Mar 2012, 17:05 IST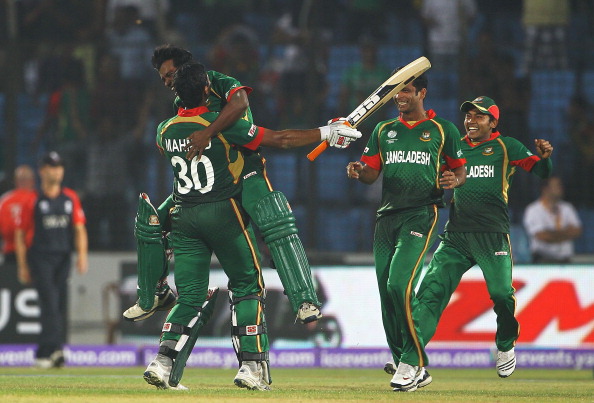 Bangladesh had put up a stunning perfomance a few days ago in the Micromax Asia Cup 2012 against the world class Asian teams like Sri Lanka, Pakistan and the current World Champions – India. The spirited Bangladesh tigers performed well against Pakistan in the inaugural match of the Asia Cup but lost by a small margin of 21 runs. In the next match against India held at Sher-e-bangla stadium of Dhaka, a run-fest was expected from the beginning. With the legendery Sachin Tendulkar scoring his magnificent hundredth century in international cricket and useful contributions from the youngsters of the team, India set a steep target of 290 runs in front of the tigers. Having 5 balls left to play, Bangladesh reached the target with the help of a fine start from Tamim Iqbal and a dashing innings from their former captain Shakib-al-Hasan. In the next encounter with Sri Lanka, Mushfiqur Rahim's boys played equally well to grab a 5 wickets victory. In the finals, they gave their best against Pakistan but unfortunately lost by only 2 runs. Performing so well in this recent tournament, nobody should be surprised if they win the upcoming T20 WORLD CUP which is to be held on September,2012 in Sri Lanka.
There are a few reasons why Bangladesh have a fair chance of winning that Cup. They are as follows:-
1. CAPTAINCY - Mushfiqur Rahim, the present captain of the team, makes intelligent bowling changes and is able to keep the pressure on the opponent team. He is very vocal on the field and keeps on inspiring his team. Often Shahdat Hossain bowls expensive overs but he keeps the pressure on from the other end via Shakib or Abdur Razzak.
2. BOWLING - Bangladesh have a set of talented bowlers who are excellent for 'limited overs' form of the game. Some of them are Mashrafe Mortaza, Shafiul Islam, Nazmul Hossain, Shahdat Hossain, Shakib-al-hasan and Abdur Razzak. Mahmudullah Riaz is also a handy option for Mushfiqur. S.Islam, Mortaza and Nazmul are great bowling options for a captain. Abdur Razzak and Shakib are also regular wicket takers. Thus as a unit they are really good. Bowling coach Shane  Jurgensen is also happy with the perfomance of his boys.
3. FIELDING - The fielding of this team has really improved with time and players like Nasir Hossain, Shakib and M. Riaz are young and dynamic on the field. They take spectacular catches and keep the pressure on the opposition with some tight run outs. Good fielding helps in creating dot balls and thus increases the pressure on the batsmen, thus creating chances for wickets. Great fielding is really important in this shortest form of cricket. Bangladesh are very sharp in this job and can thus restrict others at a low total even on a good batting pitch.
4. BATTING - The batting of this team is just spectacular. Tamim Iqbal who opens the innings, hits the ball very well and can score quickly to ensure that a good platform is created for the middle-order batsmen. Nasir Hossain, Jahurul Islam and Mushfiqur Rahim are also dependable batsmen for their national team. They make sure that the stage is set for Shakib-al-hasan who is probably the best middle-order batsman of the country. He takes little time to get set and has the capability of setting the field on fire by his pyrotechnics. Good hitters of the ball can really reward their team with a victory in 20/20 cricket. M. Riaz along with Mortaza are also very dangerous, specially at the death overs.
5. COACHING - Coaching is always a very important factor. A coach is a person who can turn an underdog into champions in 3-4 years. The way he teaches his boys, communicates and behave with them is very important. Stuart Law, a former Australian cricketer, is the coach of this Bangladesh cricket team. He has a friendly personality and very well knows those mistakes which his boys often commit.
Thus this team has got all the qualities which are required for a victory at the upcoming World Cup. Will the tigers create a history or will they maintain the streak of defeats in the World Cup?