World Cup 2015: Associate Nation Watch - United Arab Emirates
1.73K //
10 Feb 2015, 16:05 IST
After a hiatus of nearly two decades, United Arab Emirates are back to the "big leagues". This will be UAE' s second appearance at the World Cup, having earlier taken part in the 1996 edition of cricket's Theatre of Dreams. They earned their way as the 14th team of the tournament by finishing second best to Scotland in the final, but being the most consistent team, of the ICC World Cup Qualifier tournament in 2014. UAE have been drawn into Pool B, which includes India, South Africa, Pakistan, West Indies, Zimbabwe, and Ireland.
The 1996 World Cup sojourn
A forgettable outing in the tournament was embellished with a little known fact that UAE, and not Bangladesh, were the fourth Asian team (after Pakistan, India, and Sri Lanka) to have registered a win in an international match. They defeated fellow associate nation Netherlands by 7 wickets but fared miserably against the big boys.
They are better known for their match against the South Africans, more specifically a single instance from that match. Gary Kirsten nearly became the first batsman in ODI history to score a double ton as he hacked his way to 188* with South Africa scoring a comfortable 321 for the loss of 2 wickets.
UAE, in reply, crawled to 152 for the loss of 8 wickets in the allotted 50 overs. What spiced up this mundane "Giant slaying minnow" affair was that the then UAE captain, Sultan Zarawani, had walked out to face a buzzing and menacingly quick Allan Donald without a helmet; he was hit flush on his head first ball, still denied the offer of a helmet, plodded along for 6 more balls, before he was eventually dismissed by Brain McMillan for nought.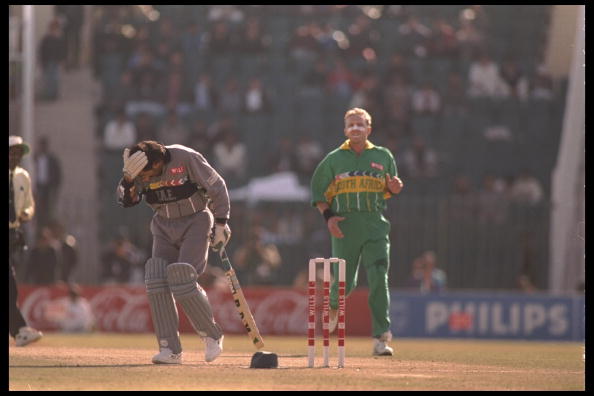 The fact that a non-cricketing incident was the most striking moment sums up the ordeal that the 1996 World Cup was for the Emirati team.
Key players
UAE are a truly multicultural team with only four Dubai Natives; the rest are representatives from Pakistan, India, and Sri Lanka. Captained by off-spinner Mohammed Tauqir and all-rounder Khurram Khan taking the role of the deputy, they have experienced heads at the helm.
Khurram isn't just the most experienced of the lot but has been UAE's best batsman over the past year. He played a crucial role in UAE's qualifying campaign notching up 581 runs at an average of 72.62, scoring them at a good click of 85.86. UAE will be looking towards his expertise if they hope to notch up a win or two in the tournament.
Saqlain Haider, their wicket-keeper, will be another key player for the UAE. 27 year old and of Pakistani origin, Haider has been the subject of praise from several Australian cricketers; he had to keep for the Australian team in their warm-up match against Pakistan A in October last year after Brad Haddin was rested by the team management and received vociferous appreciation for his agility and enthusiasm behind the stumps. His batting will also come in handy for the UAE.
Manjula George, a Sri Lankan native and an astute left-arm medium pacer, is known for his death bowling antics and can swing the ball as well. With Aaqib Javed as their coach, we could see George put forth a reverse-swing exhibition perhaps?
What to expect in 2015
UAE start their campaign on the 19th of February with a match against Zimbabwe in Nelson, before moving on to face Ireland in Brisbane. Though Zimbabwe and Ireland are much more experienced and have decent spin and pace attack respectively, these 2 matches represent UAE's best chance at recording wins.
Starting the tournament with a couple of wins may also generate some momentum for them to put up some decent performances against the bigger teams. One can expect the likes of Khurram and Amjad Javed to lead the batting charts for the team, while Manjula George, Mohammed Tauqir, and Kamran Shahzad could shore up their bowling numbers. UAE should go back a happy team if they manage to record one win and chip in with some good collective performances in the remaining matches, giving a scare or two.