Bangladesh spoils Tendulkar's party!
1.30K //
16 Mar 2012, 22:42 IST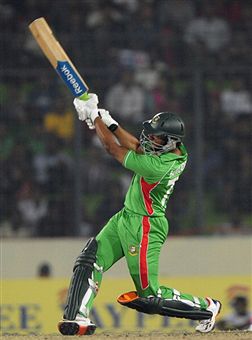 Bangladesh pulled off an incredible victory over India to spoil a golden day in the history of Indian cricket. Bangladesh celebrated Sachin Tendulkar's 100th International ton by snatching a victory by five wickets as they chased down a daunting 289, thanks to a solid batting performance.
Half centuries from Tamim Iqbal, Jahurul Islam, Nasir Hossain anchored Bangladesh's chase while the whirlwind knocks from Shakib- al-Hasan and skipper Mushfiqur Rahim left India thunderstruck.
After losing Nazimuddin early, Tamim Iqbal and Jahurul Islam put up a 113-run partnership to steady the chase. Tamim again became the thorn in India's flesh as he anchored the innings with a brilliant 70 while Jahurul Islam brought up his maiden ODI fifty. Though the Indian bowling kept a lid on the scoring rate but Bangladesh kept wickets in hand for a late surge.
The late surge came in form of a blitzkrieg from Shakib- al- Hasan who tore the Indian bowling apart by some lusty blows. He was ably helped out by Nasir Hossain who complied a cultured 54.
Shakib came to the wicket with Bangladesh needing seven an over and immediately got stuck into R. Ashwin and Ashok Dinda. Ashok Dinda, who made a come back into the side at the expence of Vinay Kumar, bowled a good first spell but Shakib disturbed his figures when he clubbed him for 18 runs in one over. Ashwin, too, was guilty of bowling short and giving away easy runs to the Bangladeshi batsmen.
India tried to crawl back into the game when Shakib departed for 49 but the captain Mushfiqur Rahim had different ideas. The small wicket keeper scored an unbeaten 46 off 25 and showed enormous power and class as he thumped Irfan Pathan for two sixes in an over and then took on Praveen Kumar to seal the game.
Earlier, the story had a different hero as Bangladesh opted to field first. Sachin Tendulkar, finally, brought up his 100th ODI ton after an overwhelming drought of 33 innings. The little master's much awaited ton took India to a respectable score of 289/6.
Sachin Tendulkar, sporting a new hairstyle, played a much sedate innings that might have cost India another 20 odd runs that could have been handy at the end. Tendulkar reached 80 of 102 deliveries but took 36 more to reach the milestone, that would not be broken in a hurry.
The Indian innings followed a similar pattern as the game against Sri Lanka, where India built up an innings carefully after they lost one of the openers. Gautam Gambhir, the centurian of the last game, departed quickly dragging one back to the stumps that left Tendulkar and Kohli to build the innings.
Kohli, again, played a hand of 63 and added 148 with Tendulkar to give India a platform from where they could explode. But sadly, India couldn't capitalize on it with Tendulkar approaching his milestone. Raina, however, did all the scoring and his slog-sweeps and lofted shots over extra cover kept the runs coming.
Tendulkar, though, was clearly under pressure at the other end. He played out a maiden to Mashrafe Mortaza on 83, and took off for non-existent singles on several occasions. The 100 finally arrived in the 44th over with a much sedate celebration from Tendulkar.
The final burst was provided by MS Dhoni as he slammed 16 off the 50th over to get India to a score looked enough for Bangladesh on a slow pitch.
The win here for Bangladesh opens up the Asia cup and springs in life to the mouth watering contest between India and Pakistan on Sunday. However, one's heart goes out to the Little Master, who even after reaching the most memorable feat had to end up on the losing side.