Batting collapse in death overs - Team India's biggest problem
2.78K //
20 Feb 2015, 21:31 IST
In the whole world of cricket fanatics, one would quite definitely see me as a nobody. But it was on this Sunday how this nobody tried to become somebody by doing something that nobody in his world would ever want to do. Now, if you fan boys are wondering what act of notoriety I'd done to ostracize myself from my community, let me confess – I enrolled myself for a Sunday course knowing fully well there was an Indo-Pak clash happening!
Adding insult to my injury, India actually went on to do really well, much better than how it was touted to do. Be it as it may, but the actual itch I had was not because I'd missed this viral contest, rather for I felt a sense of deja vu when I went through the Indian scorecard.
"Not again!," I told myself. Rallying my thoughts for a while, the "deja vu", I realized, was of how the Indian batting line-up fell like a pack of cards towards the end after having anchored itself comfortably till then. Do you smell where I'm stepping? Well, it certainly reminds us of the monkey that Indian team carried on its back during the league stage of the 2011 WC – throwing away their wickets during the slog overs.
From prince to pauper
On Sunday's match against Pakistan, India, having chosen to bat first, were sitting pretty at 273-3 at the end of the 45th over. Soon after Kohli fell for a Sohail Khan delivery, what seemed like an ordinary blow by then began to bloat as a blister. Right in his next over, Sohail Khan scalped one more of Raina and then Jadeja dutifully followed his teammate in the 48th over.
This bizarre trend continued and by the end of 50 overs all the seven batsmen were back in the pavilion adding a paltry 26 runs in the last 5 overs of the game throwing away 4 solid wickets. All score predictors predicted a score of no less than 320. Did the predictors get the whole equation wrong?
End of the day, India won the match in emphatic fashion and its slog over debacle was neatly over-looked or, let me say, swept under the carpet. But, this recklessness did cost us dearly during the previous World Cup (2011) held in the sub-continent. Back then, we came into the tournament as favourites but lost our way in the middle by losing two vital fixtures, one against England and the other against South Africa.
Where did we go wrong?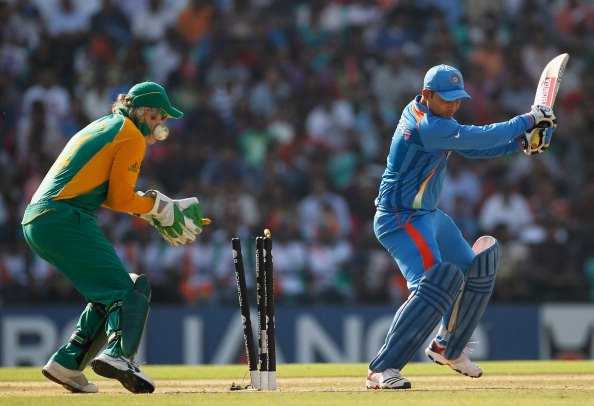 In both the aforementioned matches, if we observe, there were striking similarities in the way our boys lost control of a cruising ship. Ironical, it may seem, as critics attributed the consecutive loses to the bowlers, rest assured we failed to see a visible pattern. Let us analyze it case by case:
Case 1: India vs England
This match between the colonial-leader-once-upon-a-time England and its commonwealth-colony-back-then India at Bengaluru saw a nail-biting finish with the scores ending even-stevens. India batted first and the top order set a solid platform before the ruins actually began surfacing. 305-4 in 46 overs.
India ended with 338 runs on the board. However, the shocking this is, India lost all of their remaining wickets, 6, in the remaining 4 overs! Make a note, 4 overs, 33 runs, but 6 wickets lost. Do you believe the popular belief that it was those few bad overs from Munaf Patel and Piyush Chawla that cost us the match?
Case 2: India vs South Africa
Experts had a tough time choosing the better out of the best; both the teams being second to neither. India yet again failed to capitalize on a brilliant start classically maneuvered by the Little Master. Here again, India posting an outstanding score of 268-3 in 40 overs fell like ninepins even before the quota of 50 overs could be bowled. All it could manage to scamper was 296. Do you still want to point your fingers at Ashish Nehra?
Both these cases give us a clear picture. Our middle order shockingly turned into a weak-link during the death overs. So was the scenario during last Sunday's match against Pakistan. Fortunately for us, the skeleton has tumbled out of the closet in the very first game itself.
What can be done?
There's no medicine for such woes. The team can only tweak its strategy a little bit and hope for the rest to fall in place. Indeed, India did get over this last time by bringing in Suresh Raina as a ready replacement for Yusuf Pathan for the knockout rounds. Why this wasn't done during the earlier stages remains a plaguing question. But this time around, our bench strength isn't that promising. MS Dhoni, the skipper, known for his tactical decisions has to work around his options cleverly.
The batting line-up will have telling difference over the end outcome. Going for a risky gamble by promoting an all-rounder up the order or letting a regular middle-order batsman cool his heels during the crucial phase of the match might give us skewed results. More importantly. the batsmen out in the middle need to fully understand the scenario at hand and what is expected of them to set a competing total rather getting dismissed cheaply.
This weakness has to be nipped in the bud itself. The match against South Africa at MCG is going to be a psychological battle where Indians can leave no room for error. Though Proteas are said to have a minor edge over the Indians, playing to the strengths will give the latest "mauka mauka" ad a real parody.