Five best bowling performances of Saqlain Mushtaq
2.82K //
13 Jun 2014, 14:57 IST
Here, we will have a look at the best bowling performances of Saqlain Mushtaq. He was one of the most prolific and reliable wicket taking options for Pakistan. The first man to master doosra, he had tremendous control on his variations. He became the fastest bowler to pick up 100 ODI wickets. He could be seen as one of the few off spinners who regularly bowled in the slog overs in ODIs. Though he does not have extraordinary number of wickets to his account, he was still a force to be reckoned with during his times. Let us look at his best five bowling performances:
5. 4 for 17 vs West indies
The West Indians were batting first in the league game of the triangular series in Australia against Pakistan. They were trying hard to stay solid in the middle, but they were losing wickets at regular intervals and Saqlain Mushtaq was the man who was troubling them the most. He was making the Caribbean batsmen struggle to make runs which eventually resulted in a loss of patience and focus and in the end he grabbed 4 wickets, everyone of them just when the team required. Chanderpaul showed some resistance along with Griffith but no other batsmen could do much. Mushtaq took 4 wickets at the cost of just 17 runs in the 9 overs he bowled.
4. 5 for 29 vs Australia
It was the third match of the triangular series in Australia in 1996. The hosts were chasing a modest total of 223 set by Pakistan. They were sailing smoothly against all the bowlers, but Saqlain's doosra remained a mystery for them and they kept on losing wickets to him. The Aussies were clueless against the subtle variation from Saqlain. They lost 5 of their wickets to him and were able to pick up only 29 runs from his 8.5 overs and lost the game eventually.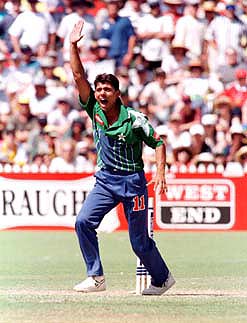 3. 8 for 164 vs England
The cautious batting approach of the Englishmen was paying dividends to them in the first Test of the series in 2000. They were not losing wickets to the Pakistani bowlers, but there was one man, who with his persistent efforts, breached into the English defence and he was Saqlain Mushtaq. He picked up all the 8 English wickets that fell in the first innings. He just kept on bowling like a bowling machine, and bowled 74 overs in the innings.
2. 5 for 20 vs England
It was the series decider between England and Pakistan at Rawalpindi. Moin Khan chose to bowl first and Saqlain Mushtaq proved that his captain's decision was correct by picking up 5 wickets in his 8 overs for just 20 runs. These five wickets were the result of a combination of some superb bowling, poor shot selection and unsettled English batsmen due to the effect of tear gas spread by police to control the mob outside the stadium which drifted in the ground giving some tough times to the players. At the end, Pakistan won the game by 6 wickets.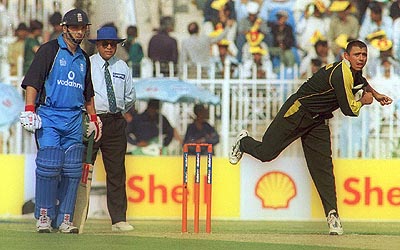 1. 5 for 94 and 5 for 93 vs India
A five-wicket haul in Test cricket has special significance, but when there are two in the same match it's even more special. No words can explain the joy of a bowler when he picks up a ten wicket haul helping his side win a hard fought contest especially if the opposition is an arch rival (in their own backyard). Saqlain took 5 for 94 in the first innings for Pakistan against India but it was the all important second innings which proved to be a real test for his character. He took a fiver holding his nerves to give his team a narrow victory of 12 runs.