Curtly Ambrose: Fast bowler by accident
2.42K //
11 Nov 2012, 08:49 IST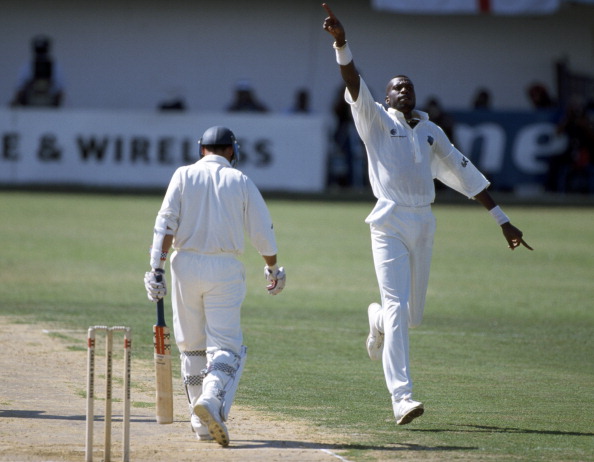 Tall and lithe, he rose through the ranks almost as quickly as his yorkers that honed in at batsmen's toes like heat-seeking projectiles. Coming late to the game, he was not consumed by it, and throughout his career he often gave the impression that he didn't really like cricket at all. Yet, surprisingly for someone with so little affection for his trade, he went on to become one of the most formidable fast bowlers to ever grace the great game.
Curtly Ambrose first came on to the scene in 1986, representing the Leeward Islands in the local Red Stripe cup competition. The Antiguan played only one game that year against Guyana at Bourda and took four wickets. He missed all of the 1987 season because the Leewards' fast bowling department was staffed by the likes of Winston Benjamin, Eldine Baptiste, Anthony Merrick and George Ferris, players who were either already playing for the West Indies, or were considered among those next in line. He only started the 1988 season because Baptiste and Benjamin were in India on West Indies duties, and made good use of the opportunity.
Fitter and faster now, he began to terrorize the regional batsmen, and soon word spread throughout the Caribbean that he was to be feared, and possibly avoided. One Jamaican opener was somehow convinced by his partner that his left-handedness made him less vulnerable to Ambrose's missiles, and so he should take him while he would content himself with Benjamin. The result was that Nigel Kennedy, making his first class debut, suffered a broken arm and never played for Jamaica again that season, and I am yet to find out if he has spoken to Wayne Lewis since.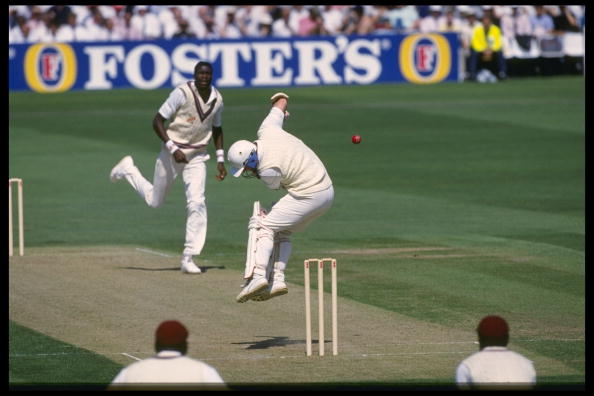 On a typically docile Antigua recreation ground surface, Ambrose totally routed Guyana, taking 12 wickets in the match with nine of them bowled. In all, the 6'7" Antiguan took a season high of 35 wickets at an average of 15.48, with Malcolm Marshall next in line with 27 wickets.
By the end of the competition, everyone knew that his next step would be to the then-all-conquering West Indies team. There was just no way his claims could have been ignored, and we were confident he would add his name to the long line of fast bowling legends from the Caribbean. So no one was surprised when he was named in the team to face the visiting Pakistanis.
It was an unbelievable rise. Ambrose had played his first meaningful cricket match for Swetes, his village, in 1984 at the age of 21. Within four years he was a West Indies player, bowling alongside Malcolm Marshall and Courtney Walsh. It's not like he lived for cricket. Unlike many Caribbean boys, Ambrose did not dream of playing for the West Indies. Most athletes who make it to the highest level dedicate hours of youthful energy to improving their craft. We know that Donald Bradman spent hours throwing a golf ball against a tank and hitting it with a stump. Michael Jordan, perhaps the greatest basketball player ever, practiced every morning before school with his high school coach. Success normally requires a love for the sport that borders on obsession, and a work ethic that only a few can summon.
It was not so with Ambrose.  He never really played much cricket as a young man, he said; actually, he never really cared much for the game. He played football and basketball. Cricket was too hard, required too much energy, so he only played tennis ball cricket on the beach with his friends to have a good time, and occasionally, because his friends thought he could bowl, he would be persuaded to have a game in the village. This is somewhat unusual. Read the biographies of most cricketers and they tell of endless games in the backyard, or the nearby ground, or at some makeshift venue.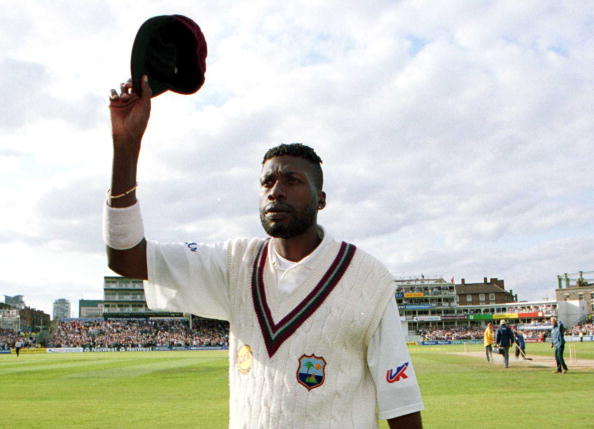 Cricketers who make it to the elite level often report that they were so taken by the game in their youth that they became cricket stalkers, searching for a game wherever one could be found. Ambrose only played when his friends asked. He had an acquaintance from his village left for space when Ambrose was a teenager, and returned, say in 1994 while he was putting England to the sword at the Queens Park Oval, dismissing them for 46, they would have been flabbergasted to find that the beanpole kid who was so indifferent to the sport could have risen to its very top. He would have found it remarkable that such a reluctant cricketer would have gone on to take 610 international wickets.
Ambrose played his last game for the West Indies at the Foster's Oval in Kennington on the 2000 England tour. Since then, he appears to be mainly occupied with music. He plays bass in a band called "The Big Bad Dread And The Baldhead," which also features Richie Richardson as its rhythm guitarist.
Cricket? He hardly even watches.