Dravid - The Fighter
1.09K //
15 Mar 2012, 18:19 IST
There are only a few people in this world who can touch an entire nation's heart by sheer determination, discipline and love for the game – Rahul Dravid is one such servant of the game who has very humbly provided his services to the country without much fuss and has excelled at the highest level obtaining the status of a living legend. When I saw Dravid announcing his retirement, a tear rolled down my cheek because here is a man who has always played and lived under the shadow of greats like Tendulkar and Ganguly but has never failed to deliver consistently no matter what the situation. His grit, determination and sincerity are second to none. His performances have always been overshadowed by the brilliance of Tendulkar or the flamboyance of Sehwag and Dhoni but he has continued to labor along playing not only match winning but also some important match saving innings. Arguably, the most technically sound player has never fallen prey to any on or off field controversies making him not only a great player but also a terrific person.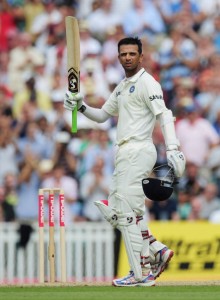 At first when I wasn't very knowledgeable about cricket I used to get bored of watching him defend all the deliveries he faced. Slowly as I gained knowledge about the game, I realized how much Dravid meant to the team and how important it was for a player not to throw away his wicket especially when the conditions were not suitable for batting.  I was simply amazed by his patience, focus and  level of concentration. I still remember waking up early in the morning in order to watch India play a Test match against New Zealand and while all the other batsmen where getting bamboozled by the swing and bounce produced by the New Zealand seamers, Rahul Dravid stood tall with resilience and battled his way through piercing the off side field with his delightful cover drives and square cuts. In the recent tour of England, Dravid was the only player who could assess the English conditions, cope with them and play sensible cricket which all the other players failed to do. This is a sign of greatness that even when players around you are not performing the way they should be, you find a way to lift yourself and complete the job at hand.
He has always been criticized for playing at a slow pace and thus is considered unsuitable for limited overs cricket. But time and again he has proved his worth by playing mind boggling innings under pressure and holding the team together when the batsmen at the other end were falling like nine pins. Cricket needs to be played with a steady mind because it is a thinking man's game and this is where Dravid's strength lies. He is a player of the big occasion; cometh the big stage and "the Wall" will always deliver. The way Dravid absorbs all the pressure in the middle and bats for hours with utmost concentration is almost as if he is telling his teammates that "ALL IZZ WELL". I think he should be the brand ambassador of Raymonds because he truly is the 'complete man', a fighter and a controversy free man both on and off the field.
Throughout his career he was like the insurance that India always had. Whenever we lost one of our openers in the first few overs,  I used to get really rattled up but then Dravid would come to the crease and play a solid defensive shot and it always felt like it was Dravid's way of saying "Main hoon na". India has a huge challenge at hand because filling that No. 3 spot would take a lot of beating and as everybody is saying there was and will be only one Rahul Dravid. He is an ideal man with excellent temperament and I just hope my son turns out to be like him. RESPECT!