England's batsmen let their bowlers down once again
805 //
27 Mar 2012, 21:00 IST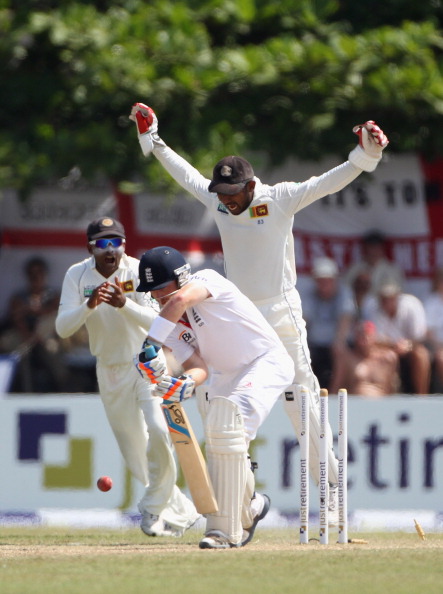 There has been a lot of bluster from England's batsmen in the lead up to this series about what they have learnt from their abysmal showing in the UAE. Well, it appears that talk has not translated into action. After England's bowlers had yet again done a brilliant job, England's batsmen once again completely, categorically, let them down.
Against Pakistan, England were far too defensive. They didn't score runs quickly enough, therefore creating masses of pressure on themselves. This time however, they went way too far in the other direction. It seems that their good showing in the ODIs against Pakistan has led them to believe that all out attack is the best way of conquering these conditions. I think it's safe to say that today's showing has quashed that notion.
As Sri Lanka have shown, accumulation is the name of the game, something that England have inexplicably failed to comprehend. Only Ian Bell looked comfortable at the crease. England will take some solace from this as there were strong fears that Bell was incapable of playing spin in these conditions after his catastrophe in the UAE. It is worrying that England succumbed to the same problems they incurred against Pakistan. Most of their problems stem from their poor reading of length. Time after time they are caught on the crease, not knowing whether to go forward or back. It is a fundamental problem, one that top class players should not be having. It is also very surprising as every one of England's batsmen had dominated a succession of spinners throughout the previous 18 months, admittedly not in subcontinental conditions.
Jayawardene's innings was a perfect example of how to milk spinners without taking many risks. There is no doubt England's batsmen have enough talent to succeed in these circumstances. It is just a matter of whether or not they can work out, and execute a method which works. They will have to give it plenty of thought as a tour of India looms this winter and their techniques against spin will be severely tested.
There seems to be a theory in the England management that early exposure to subcontinental conditions is key to playing well there. It seems like a sound theory, so the recent flurry of trips by U19 and A sides to the subcontinent should hopefully mean the next generation of England cricketers will not suffer from the same problems as the current crop. Indeed, there is a strong case to include players from the A tour who have done well. Players like James Taylor and Jonny Bairstow, who have shown masses of potential, could be given chances on upcoming tours.
Whilst England batting failures have become a worrying trend. Incisive bowling performances have become a regular occurrence. Thankfully for England, their bowlers have once again brought the batsmen out of a hole that they had dug for themselves. Sri Lanka closed the day on 84-5, a lead of 209. It was an incredible effort from a group of bowlers who had only 45 overs to rest.
The England management will be even more pleased that it was Graeme Swann who did the brunt of the damage. In Pakistan, and in the first innings here, he had not looked particularly threatening (except to any left-handers that came across his path). The 4 wickets he took today would have boosted his confidence to stratospheric levels. They were all classic off-spinner dismissals and for the first time in a while, Swann was genuinely threatening the right-handers.
Swann's performance today bodes well for England's hopes of bowling Sri Lanka out cheaply tomorrow. Andrew Strauss is stuck in a difficult position, such is the scale of Sri Lanka's lead. He will have to find the right balance between attack and defense tomorrow as a quick 50 would surely take the game out of England's hands. Even if England wrap things up quickly tomorrow, they will still need a monumental effort from the batsmen to win the game, especially judging by the evidence of the past few months.
Graeme Swann will be the key man tomorrow. England will be relying on him to bowl Sri Lanka out. They might then have to rely on him to win the game with the bat also. Whatever happens, he will undoubtedly be the center of attention, and he'll certainly love that.