From distant lands to Derbyshire XI - Daryll Cullinan
726 //
10 Mar 2013, 19:52 IST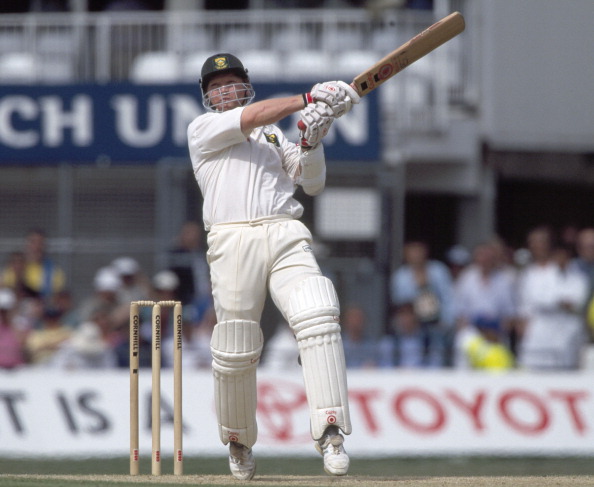 Over the years I have read a number of articles about Daryll Cullinan and there is a word that nearly always crops up at some stage in all of them – Enigma.
The articles usually reference him not getting on with X, or vice-versa. Herschelle Gibbs pulled few punches in his somewhat scurrilous autobiography, while Dominic Cork's Uncorked made his feelings patently clear. I'll not go into the details, but Cullinan's dislike of the practical jokes in a somewhat lively Derbyshire dressing room perhaps made him a long way from unique.
I never met him, but I saw him bat on numerous occasions and he was a very fine player, both technically and stylistically. At the Oval in 1994, as Devon Malcolm cut a swathe through the South African batting after his now legendary "You guys are history…" comment, Cullinan looked on a different level to his colleagues. He stroked 94 imperious runs from a team total of 175, an innings that played a major part in Derbyshire's decision to engage him for the 1995 season.
To be fair, Cullinan had looked a class apart from his school days, where his exploits earned him the unfortunate reputation as the 'new Graeme Pollock'. Cricket has an unfortunate habit of burdening young talents with such sobriquets and many a young talent has subsequently struggled to handle them. Cullinan didn't and had a first-class century to his name before he was 17.
At the crease he was poised and graceful, with a cover drive in the Barry Richards mould. He seemed to have plenty of time to play his shots and was equally adept against both pace and spin. The latter made his struggles against Shane Warne all the more surprising, as he scored Test centuries in five different countries and impressed whoever saw him with a wide range of strokes, accompanied by exquisite timing. Yet in Australia his average was painfully low, something many attributed to him simply trying too hard and failing to play his natural game. The talent was undoubtedly there.
He was on fire from his first innings for Derbyshire, making 134 at the County Ground against Sussex as we made 603-6 against Sussex after bowling them out for just 111. They only made two more than that in the second innings and Cullinan must have thought he'd joined a team of world-beaters. He followed this with 131 at Trent Bridge in his next, but then had to retire hurt at Chesterfield against Yorkshire on a fiery track.
I saw him play a delightful knock against Scotland at Titwood on a typically slow early season Scottish wicket, where batsmen struggled to time the ball. Cullinan worked out the conditions and ensured that he stayed in until the end, when he opened up with a flurry of strokes that took Derbyshire past 200. He reached a well-deserved and beautifully crafted century in the last over, his innings making all the difference as Scotland subsequently struggled against Malcolm, Cork and De Freitas.
He made five centuries that summer in the first-class game, but there was a noticeable reduction in the output as his enjoyment waned and the dressing room atmosphere deteriorated. He finished the summer with an average of a shade under 46 – not bad, but far less than his early form suggested and his talent justified.
He had a somewhat tempestuous relationship with the South African cricket authorities and flitted between domestic sides in that country, befitting a man with a nomadic bent. In 1995 he appositely broke Graeme Pollock's then Test record score by a South African, his unbeaten 275 against New Zealand at Auckland a monumental effort of concentration. I can find no online footage of that innings, but here he is making a century against England in 1999-2000, showing the shots and footwork that made him such a lovely player to watch:
Only nine South Africans with a lengthy Test career have beaten his Test average of 44. It is just a pity that we only saw him at Derbyshire for one season, as the experience could only have benefited him (and us) in the longer term. Compare that season's returns (there were a further 500 one-day runs) with the debut county campaigns of, for example, Eddie Barlow, John Wright and Peter Kirsten. Cullinan can then be looked on even more favourably.
Irrespective of the opinions of some teammates, supporters should only consider Daryll Cullinan from a playing viewpoint. He was a player of charm, grace, poise and class, a delight to watch.
I just wish it had lasted longer.