Hansie Cronje Saga Revisited !
1.22K //
20 Mar 2011, 23:44 IST
Hansie Cronje was a white South African cricketer. He admitted taking money from bookmakers to underperform on the field of play. Two years after his admission he was dead. Killed in a plane crash in the Outeniqua Mountains.
Hansie played for his homeland, South Africa from 1994 to 2000. He was there at the beginning, when the ICC allowed his nation to once again "compete" after the horrors of apartheid. He was quickly promoted to captain, and was a national hero. Cronje led his side to memorable victories against a decent Pakistan side, a great Australian team and averaged 67 with the bat on a losing tour of England in 1998.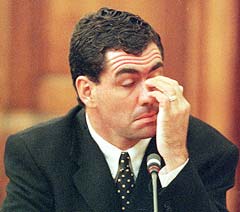 Hansie achieved hero status with tenacity rather than raw talent, he averaged only 36 when all was said and done. His captaincy has been described as inspirational. Perhaps a few dollars were enough to "inspire".
In '96 he was introduced to Indian bookie, Mukesh Gupta (rather comically known as "John") by India captain Mohammed Azharuddin. This proved to be the beginning of the end for the money mad Cronje. In 1996 he was asked to convince team mates to throw the Kanpur test, Herschelle Gibbs later said "did convince". During the 1999 cricket world cup, held in England, Hansie took the field sporting an earpiece directly linked to then coach, Bob Woolmer. Once the umpires realised what was going on Cronje was ordered to remove the offending earpiece. Perhaps his most incredulous achievement was conspiring to lose the now infamous Centurion test in 2000.
Nasser Hussain was playing his maiden tour as captain of England, with a young and inexperienced three lions side under his wing. The South African's boasted some true legends of the game in their line-up, and were unbeaten in 14 tests. This was to be the final test of the series, with South Africa on top, holding an insurmountable 2-0 lead. Rain had almost prevented any play during the opening four days of the game. Hansie had a chat with Nasser, and between them they decided to "make a game of it". South Africa would declare at 248/8 and forfeit an innings, in return England would forfeit their first innings, leaving them a target of 249 for an impossible victory. England duly agreed and won the game by two wickets. Hansie was hailed as a "hero" of the game. His part in making test cricket exciting was welcomed across the cricketing world. It was later discovered that Hansie Cronje was paid £5000 and a leather jacket to ensure a result rather than a draw. The Centurion test of 2000 is now known as the "leather jacket test".
The King commission was set up by the South African cricket board to investigate the murky goings on. Hansie was banned for life, Herschelle Gibbs was amongst others implicated, and banned for 6 months. Hansie was found to have 72 different bank accounts in the Cayman islands, and admitted to accepting at least $130, 000 from bookmakers. It became clear to the great and good in South African high society that no good was going to come to the young country (on the international stage) of South Africa from the King commission's findings, and so it was dissolved before the real culprits could be uncovered.
In May 2002 Hansie Cronje was dead. The full disclosure of his troubles never made it out of his head. He was flying home and crashed into a mountain. He and the two pilots killed instantly. These betting ring gangster types are not to be trifled with. Bob Woolmer, Hansie's coach at the time of the dodgy dealings, was found dead in his hotel room in the caribbean during the 2007 cricket world cup. At the time Woolmer was nearing the release of a "warts and all" auto-biography, and was Pakistans cricket coach.