How rain robbed South Africa of a place in the World Cup final
14.49K //
24 Mar 2015, 20:42 IST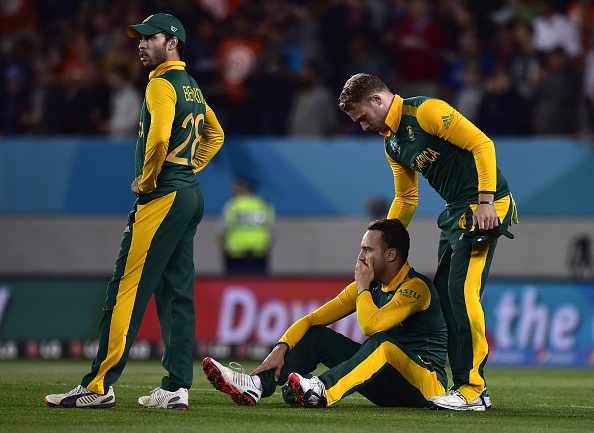 The archaic adage "Lightning never strikes twice in the same place" seems a bit of a fallacy when it comes to the South African cricket team.
The digital scoreboard on the giant screen at the Eden Park read, "5 runs required off 2 balls". The world's most respected speedster Dale Steyn stormed in from his end to fire his best to Grant Eliiot, another South African (at least by birth).
Whack!
Elliot did a 'Dhoni' in front of the 45,000-strong crowd, steering New Zealand into the finals of the ICC World Cup 2015 and gifting the viewers one of the best games in the tournament.
Anybody who tuned into just the last few moments of this match would most definitely be under the impression that South Africa let a tight chance slip away, yet again. But there was more to this match than what was witnessed during those last few moments. And to know what actually went wrong in this semi-final match between South Africa and New Zealand, we need to rewind to the 38th over of the South African innings.
South Africa had a shaky start to their innings, but then with a timely contribution from Faf du Plessis and Riley Rossouw, they got themselves to a comfortable position. A little while later in came AB de Villiers, who joined the bandwagon and took South Africa to what looked like a promising total, with the scorecard reading 216/3 in 38 overs.
Rain plays havoc yet again
At this point, the play took an abrupt halt, De Villiers took off his helmet and let out a gasp as drops of rain trickled down his face. "Aargh! Not again!" every South African fan cried out aloud. As the rain continued to lash down heavily, leaving little hope of play resuming any time soon, mathematicians and statisticians heard their call of duty to work the contentious Duckworth-Lewis (D/L) equation out.
Once the rains retired to the other part of the city and the number experts were done with the adjustments as per the D/L method, the South Africans were given the unfortunate news of the match getting reduced to 43 overs a side.
The Proteas had soaked the pressure brilliantly and had given themselves a golden chance of imposing a spirited total for the Kiwis to chase. With two more overs left in the batting Power-play and 12 left in the innings, seven more batsmen to pad up and De Villiers and Du Plessis deciding to cut loose after a long stint at the crease, South Africa may have finished somewhere close to 350 on the board – that is a safe assumption.
But the reduction of overs due to the rain conjured up wicked plans to stop South Africa's trophy dream. They managed to add 65 runs in the remaining 5 overs while losing two wickets, thanks to some late fireworks from David Miller. But De Villiers, cricket's modern-day show-man who was on 60 before the interruption, could add just five to his score and the team finished with a total of 281/5 in 43 overs.
The D/L equation factored in certain other aspects (like number of wickets lost) and presented a revised target of 298 for New Zealand to chase. Sure, D/L is the best possible method available out there, but can any formula on earth judge how much De Villiers would have scored had it not been for the rains? Is it humanly possible to take into consideration several intangible factors like match-temperament, momentum and game-plan? Not really!
For all you know, had South Africa posted a score of 350 or so in 50 overs in today's match, New Zealand may have got bogged down by the big-match pressure in front of the home crowd. There's a huge difference between chasing 350 in 50 overs and 298 in 43 overs, even if the required run rate in the two cases may not be that different.
Chasing a smaller score is always easier, a steep run rate notwithstanding; for instance, chasing a target at 10 an over has been accomplished in T20 cricket several times already, but no team has ever come close to doing that in a 50-over game. It's almost a given that the Kiwis would have found it considerably harder to chase down 350-odd in 50 overs than the 298 in 43 that they were asked to score.
A painful history of being robbed by Mother Nature
What is it with South Africa and the rains? The game's history is filled with more such instances from the past to keep us educated on the long-drawn association between the Rainbow Nation and the menacing nature.
In the 1992 World Cup semi-final against England, South Africa, who were chasing 252, suddenly found themselves in a rendezvous with their dubious pal – rain. 12 minutes of rain is all it took to produce a farcical target of 22 needed off one delivery. The door to the finals was shut right there and then for the darlings of the tournament.
Yet another tryst with their villain-from-above came in the World Cup 2003, when South Africa were playing a must-win game against Sri Lanka. While they were well into the chase, a storm brewed around the corner and the heavens opened up. Through some amateur miscalculation, South Africa ended up falling one run short of the revised D/L target and eventually knocked themselves out in front of their own people.
There are about a dozen tragic dramas that South African fans can mournfully recollect when it comes to their team's performance in ICC tournaments.
The 2015 semifinal, however, might end up as the most tragic of them all. A team can overcome any obstacle in a sport but can it really fight mighty nature? Today's game was another anticlimactic script which will go down in history as South Africa's day of misfortune.
Yes, they did err on the field, made made a few humanly mistakes of dropping catches and missing run-outs. But for once, the Proteas can't be called the chokers, because they were defeated more by Mother Nature than by their own mistakes.