"I don't want to put any pressure on myself" - Rohit Sharma
1.73K //
05 Dec 2012, 17:26 IST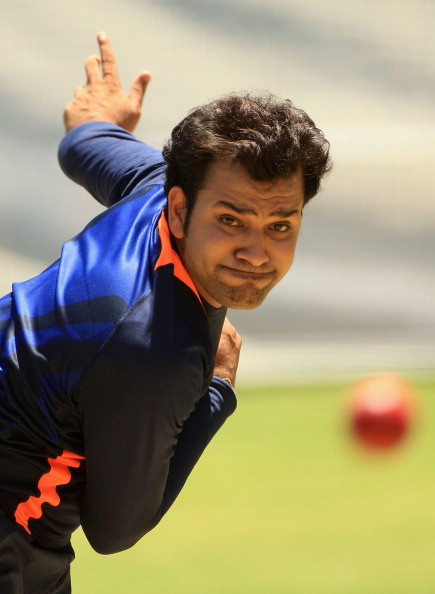 After getting many chances from the selectors, and finally falling out of Team India's immediate plans, Rohit Sharma is plying his trade for the Mumbai Ranji Team. With the absence of regular skipper Ajit Agarkar from the squad due to injury, he's also been the stand-in captain for the team. Ahead of the recently concluded Ranji Trophy match between Mumbai and Bengal, Sportskeeda caught up with the dashing right-hander. Here are the excerpts of the conversation:
Q. Mumbai has been suffering with injury issues recently, including that of regular skipper Ajit Agarkar. What's the fitness status of the team currently?
Surya is fit. Agarkar is not going to play as he hasn't recovered yet. He feels he needs to bowl a lot more. He wants to be rested for one more game. My forearm is okay. There's a small niggle but I should be fit to play tomorrow.
Q. With 3 draws in the first 3 games of this season, how do you rate Mumbai's performance this season? Have the bowlers failed to deliver in absence of Agarkar?
We failed to get an outright victory in the last three games but I feel our bowlers did a good job. We played on flat wickets and there wasn't anything for the bowlers. Restricting Rajasthan to 470, I feel, was commendable because they were 270 for 2 on Day One. We came back strongly on the second day but they tried their best. I believe we have to be more consistent and if we manage to do that the results will favour us.
Q. Wasim Jaffer hit 80 and 19 on his return from Haj after several months. Getting him back in the ranks must be a confidence booster for the team..
He(Wasim Jaffer) is a big boost to our batting unit. He brings with him such huge experience and skill. Hopefully, he will straightaway start scoring runs for us. He will open the batting for us.
Q. In the absence of regular captain Ajit Agarkar, you've been performing the duties as the stand-in captain. How has been the experience so far? Has it brought any extra pressure? 
It was an added responsibility and I am enjoying it. It will definitely change my batting responsibilities and approach to the game. I am trying to lead from the front. I am getting to know the players better and trying to find out how I can extract more out of them. I am trying to make everyone comfortable.
Q. How has the responsibility of captaincy affected you as a batsman? Not many players have found the extra responsibility helpful for their batting.
Added responsibility doesn't mean I will stop playing my shots. If the ball is there to be hit, I will go for it. It doesn't change my game at all. But I am more careful now.
Q. Mumbai has produced a lineage of great captains – Vijay Manjrekar, Dilip Sardesai, Sunil Gavaskar and Ravi Shastri have been successful Mumbai skippers. Being a Mumbai captain, does it bring added pressure?
I want to carry the legacy forward. I am really honoured to lead Mumbai. I never thought I would be the Mumbai captain. In a way, one of my childhood dreams has come true. I want to live up to the expectations.
Q. You were dropped after a string of failures from the national side. Do you think you can make a comeback soon? With the likes of Pujara and Kohli performing well, is a comeback to the Test side at the back of your mind?
Yes it is. Whenever you are going out you always want to play top-level cricket, which is playing for India; so things are always there at the back of mind but I don't want it to affect my game. I just want to enjoy myself in the middle and not think about all those things. It is every cricketer's ultimate goal to be part of the Indian squad but I don't want to put any pressure on myself. I want to enjoy what I am doing right now so I will continue doing that.