I never thought I was the 'WALL': Rahul Dravid - Excerpts from press conference
1.75K //
09 Mar 2012, 18:28 IST
Even as the strokeplayers—Tendulkar, Ganguly, Laxman and Sehwag—played the attacking role in the Indian line-up, it was Rahul Dravid, with his renowned technique and mental strength, that showed the willingness to bat through crucial circumstances and keep the innings together for the Indian team.
On the day he bid goodbye to international and domestic first class cricket here at the Chinnaswamy Stadium, the place where Rahul grew as a cricketer, cricket lovers would like to fondly remember him as a classical Test match batsmen—a WALL that Team India can no longer lean on.
BCCI President N Srinivasan called Dravid a consummate team player. And why not, when Dravid was the one who was willing to keep wickets when he was asked to, open the batting if the team wanted him to and accept any role thrust upon him without so much as a murmur.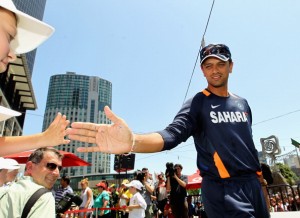 Dravid's illustrious career that began at Lord's with a flamboyant 95 in 1996 lasted 16 years.  He ends his career today as one of the greatest players of his generation, perhaps second only to Sachin. He scored 13,288 Test runs – behind only Tendulkar – in 164 matches, with 36 hundreds at an average of 52.31. His ODI career, which effectively ended in 2008 with a brief reprisal in 2011, was almost as successful, replete as it was with over 10,000 runs and 12 centuries. He also has 210 catches, a Test record, in addition to 196 catches in ODIs.
In an uncanny interaction with the media on Friday, Dravid took on every question fielded to him. Throughout the press conference, Dravid was usual diplomatic self, but he still seemed to be speaking his heart out.
Excerpts from the press conference:
What prompted you to take this decision?
Like I said, I felt it was the right time for me to move on. I had a glorious run, a wonderful run. I felt it was time to move on for the next generation of young Indian cricketers to come on and play and take the team forward. A lot of these decisions they just come to you in some ways.
It must have been difficult to make such a decision?
Yes and no. When you leave something like playing for India – a life that I have lived for close to 16 years and, five years before that of first class cricket, it is tough. It is not easy. It's all I had known all my growing life. It was a challenge. Yes, from that point of view it was a difficult decision. But it also wasn't a difficult decision for me because I knew in my heart deep down that the time was right. I was very happy and comfortable in what I had achieved and what I had done. It is hard in a way and it's also easy in a way.
Is there any achievement which could have left you more satisfied? And also what are your  plans for the future?
If you play for 16 years, there are going to be times in your career where  you have to face some incredible highs and some disappointing lows. That is part and parcel of being an international cricketer, especially for one who has played for a really long time. While I say there are many disappointing times in my career, there  have been some great highs. At the end of the day, there is a huge amount of satisfaction that even though I might have failed in certain times or failed in achieving certain things, I have always given it my best shot. I have left no stone unturned to try and become the best cricketer I could ever become. I think that leaves me with a huge amount of satisfaction. Definitely there are no regrets.
Critics have always had something to say at every juncture in your career. Is there anything you want to tell your critics now?
Absolutely not. I respect the fact that when you play international sport in a country like India where there is a huge amount of passion, you have to learn to deal with it. It is a part of the challenge of being an international cricketer. We have to accept criticism and we have to learn to deal with it. They are the two sides of the same coin. I think the media has been kind to me.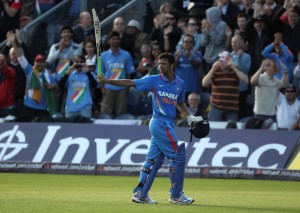 Were you following what was being written in the media during the Australian tour and if yes, did that push you to take this call? And also, had the series gone differently would you have taken this call now or waited a little longer?
I don't follow every word that is being written. But I know that you get criticized when you don't  do well. Irrespective of how the Australian series had gone, in my own mind I was sure that after the Australian tour, I would sit down and look at a lot of things.  Now it is easy for me to say that but I would like to think that I would have come to the same conclusion. I have confided with my friends that I would sit down and assess the situation after the Australian tour, not only about my own position but also where Indian cricket is at and what should be the way forward.
How long did it take for you to arrive at this decision? Did you have a word with Sachin about this?
For a year now I have been aware of the fact that after each and every series, I have assessed the situation where I was and this was no different. I came back from Australia and I wanted to take the emotion out of it and spend a month at home, think dispassionately. So I came to this decision and I knew that I was clear in my mind. I have spoken to Sachin. I have spoken to a lot of my team-mates. Everyone was incredibly supportive, as they have been right through my career. That's it.
You have had the opportunity to play with the best in the business, can you tell us about that…
It was an honour and privilege to play alongside a galaxy of stars and legends whether it was Sachin, Anil, Sourav, Srinath, Laxman, Sehwag, Harbhajan. Maybe I am missing out a few names here. I was fortunate to have played in an era which was successful for Indian cricket. Some of the guys that I have played with, my sons may not understand or recognize, but if they go on to follow the game, they will realize that I have played with some of the greatest players, players who meant a lot to Indian cricket. Sharing a dressing room with them was an absolute honour. I have learned a lot of things from them in the last 16 years as a person and a player.
When Adam Gichrist announced his retirement, he had said that dropping a catch of Laxman made him arrive at the conclusion that it was time to go. Any such moment which sparked the decision for you?
I don't think there was a Eureka moment for me. For each one it comes differently. For me it has come after a lot of contemplation, with friends and family. It is difficult to give up the shirt but you have to realize that this moment has to come to everyone. As you play international cricket and see greats retire while you are playing, you know that this will come to everyone. While it will be difficult, I make no mistake in saying that I love playing for India.
Don't you think you could have waited for one more series? Why shock us with your decision one fine morning?
I didn't wake one fine morning and take the decision. For me, I needed to be sure that I was playing the game for the right reasons and that I was able to achieve great things for Indian cricket and achieve wins. I have done that for the last 16 years and I feel the time was right. I know that I had a great run and I had given it some thought.
Don't you have absolutely any temptation to play one more Test match? Did you want to have a farewell series like Kumble or Ganguly did?
If you make a decision during the course of the series, then I think it is great. I have been part of some nice farewells but I made the decision now. I had the time to think and contemplate. Just to keep playing for the sake of one Test – I don't think that's right. I don't think that was the way I played the game. It was important for me to move on. I needed to play for the right reasons. As much as I respect other people's feelings that I should have played another Test, I hope they will respect and appreciate my feelings.
People have termed you as the 'Wall' for a long time now. What does the word 'Wall' mean to you?
I never really thought of it or took it seriously. I will be honest with you that when people call me 'Wall' I used to joke around saying they were setting me up because after I fail, it is easier for them (newspapers) to say things like 'there is a brick in the wall', 'the foundations are weak', 'the wall is missing' and other similar things. They must have probably thought, "let's call him the 'Wall' so that later we can 'use' it against him". I know that a lot of people call me that very fondly and I respect that. But I never really thought that I was a Wall when I walked out to the middle.
Did the dropped catches of late influence the decision?
It didn't influence in making the decision. But yes over the last year, I have dropped two or three catches which I could have taken. Whenever you drop a catch, it is disappointing. And as people who have played with me will tell you, nothing frustrates me more than dropping a catch. I can get over getting out after 15-20 minutes but when I drop a catch, that stays with me for a very long time. And, it really hurts in a lot of ways. But the decision was not based on that. As a slip fielder, you drop some catches. That is part and parcel of the job. The fewer you drop, the better you are.
Can you point out one innings that you will cherish for long?
It is hard for me to pick one innings that means lot to me. Obviously there are two or three that come to the top of my head. The 180 at Kolkata and the partnership with Laxman, the 233 in Adelaide, the couple of innings that I have played in Jamaica for a Test win on a low-scoring wicket, Headingley, Rawalpindi… I guess there are quite a few that come to the top of the head but it is hard to choose between your sons.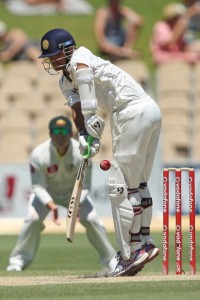 You made a mention of Bradman's line 'leaving the game better than you found it' in your speech. Do these words inspire you? Also, would you like to be part of building a road map for Indian cricket?
It is for other people to judge whether I have left Indian cricket better than how it was when I started off. It's not for me to make that decision. In terms of what I will do, I have got a couple of months in the IPL and after that, in June, I will have some time to put my feet up and relax and see what is ahead of me. I am sure that there are many opportunities and ways with which I will be able to contribute to the game. I feel it is wrong to use the word 'contribute' because sometimes you feel the game is too big for you to contribute. I will play my part, maybe in helping kids. I have not made up my mind. Come June, I have to sit and think what lies ahead of me.
When did you inform the selectors about your decision to quit?
I had a personal conversation. To be fair, I have kept them informed and involved. But what I have conversed is a personal thing.
Where do you see Indian cricket heading to, particularly in Tests? Do you see anybody coming close to you?
We are very disappointed by the fact that we didn't do well in England and Australia. Having said that, I still do feel Indian cricket is in a good place. There is some really exciting talent coming through. As to who will replace me, in the last two years I have felt there have been exciting  talented batsmen waiting in the wings who can definitely step up and take over. They have got the talent and skills required to be successful. When I look back at myself as a 23-year-old when I played for India, and then look at the present players, I know that I was nowhere near as talented as these kids. Obviously just being talented does not necessarily mean that you will have a successful Test career. There are lot of things that go with it – how you face the challenges and how you deal with things which are sometimes internal more than external. And, I think it will be really interesting for me to sit back on my couch and watch some of these young talents as they establish themselves over the next two or three years. I hope two or three of them can establish themselves and play for India for a long time. In my generation, myself, Sachin, Ganguly and Laxman and Viru who came in late and Gauti, we were able to establish ourselves in the Indian team, and it makes a big difference. If you have people coming in and out all the time, that probably means that they are not performing well enough. It breeds instability, if you don't get performances consistently. It is a really interesting and challenging time to see which one of these kids will stand up.
What do you have to say about the speculations of a rift within the Indian team? Was any of it true?
Absolutely not. Like you said, it is speculation and rumours and there is no truth to it.
Temptation to play one more domestic season?
Not really. Most of the guys in our side are pushing for South Zone selection and things like that. To be honest, I felt that I would be blocking an youngster's place by playing another season of Ranji Trophy. Sri did ask me but I said no.
What can we expect you to be doing post June?
I have not decided on what comes after June. I truly believe that a little bit of time away from the game will be good for me. I have played this game for 20  years and have lived in a cocoon, so to speak, a surreal world. It has been away from reality in some ways and so many former cricketers have told me that if you get away from the game for me a while, it gives you a better perspective and you will be able to come back and look at things differently. When you play, it is difficult to see things from outside. Whatever decisions I take will be based on the fact that I have a young family and want to spend time with them.
How much would you miss the routine of waking up early and coming out to train?
I will miss that a lot. I have lived the routine, going to the KSCA or NCA every morning. My wife tells me that I now have to get out of my routine. My new routine will be buying the groceries (laughs) and going to pick my sons from school and dropping them to school.
Can you tell us a little bit about the bowlers you have faced? Who according to you has been the best?
Shoaib was a good bowler, a fast bowler but he was probably not the best I have played. He was a good bowler, no doubt about that. People like Mcgrath, Muralitharan, Ambrose, Walsh, Akram, Waqar, Shane Warne – they are great bowlers. I had the privilege of playing alongside Anil, Sri, Harbhajan in the Indian side. There were some great bowlers in my time and it was always a challenge to come up good against them.
Who according to you is the next Dravid?
I wouldn't like to name one particular player. I would like to say that there is a huge group of  young Indian players who can be better than Rahul Dravid. I would love to believe that in 16-17 years, you will be attending a press conference of a player who has done lot more than I have.