ICC World Cup 2015 - Bangladesh should start dreaming big
2.34K //
14 Mar 2015, 17:51 IST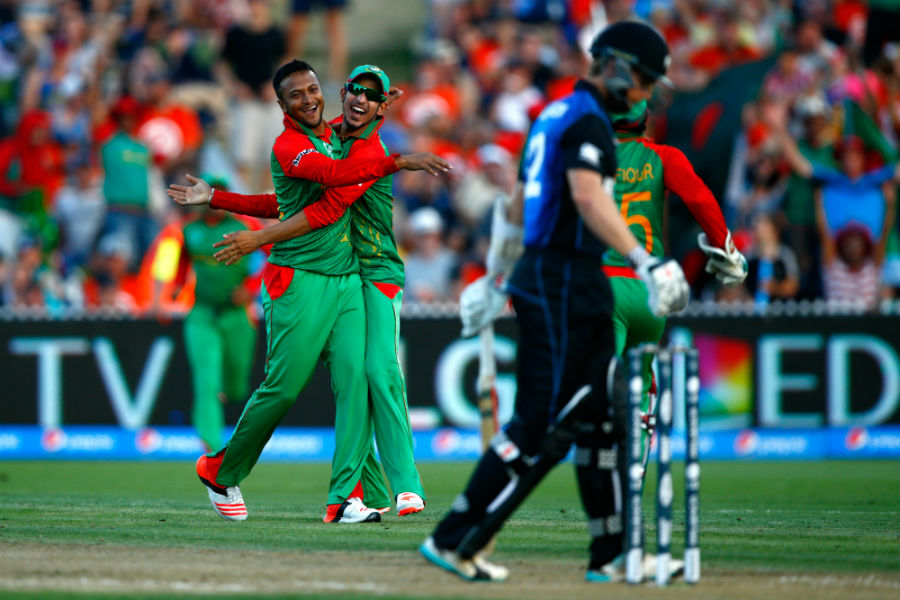 What kind of attitude do you expect from your team? Surely, you will always want them to be fearless. There is no adventure in witnessing a team which tends to play in a defensive manner. There is no allurement in witnessing a team which tends to surrender meekly. A team has to have that spunky attitude to demand respect and earn accolades from its critics.
Throughout this World Cup, New Zealand have been the best attacking side. Brendon McCullum has been central to New Zealand's such eye-popping performances and under his leadership, the Kiwis have displayed fearless aggressive brand of Cricket. Before the clash against Bangladesh, their pace bowlers have been merciless. They hunted the opposition batsmen like a predator and devoured them in ruthless fashion. One has to be fearless while playing against them.
Alien conditions for Bangladesh
At Hamilton, the conditions were ideal for New Zealand's pace bowlers to put chills down the Bangladeshi batsmen's spine. The ball swung, beat the bat regularly and a Test match like field was set to trigger apprehension.
Normally, Bangladesh are not habituated to play in such conditions and very few expected them to fare well against the New Zealand pace bowlers, but in this World Cup the Tigers have rediscovered their lost self belief. They have now started playing a fearless brand of Cricket which was evident against New Zealand.
Despite losing two wickets early, the Tigers shrugged off the fear factor and continued to fight back against the best team of the tournament. It was that unsung hero of Bangladesh cricket, Mahmudullah, who orchestrated yet another glorious script for his country by stitching fruitful partnerships and notching up his second consecutive World Cup hundred. Bangladesh lost wickets in crucial stages, but Mahmudullah's resolve and courage never let Bangladesh lose the momentum.
With plenty of dynamic batsmen in the side, chasing 289 runs in 50 overs should have never been a tough task for New Zealand. But they were made to sweat and at one stage it seemed that Bangladesh might maintain their recent unbeaten record against them. The Tigers fought tooth and nail.
Gamble didn't pay off
Shakib Al Hasan led from the front with the ball and gave Bangladesh important breakthroughs and stranglehold New Zealand's serene progress. Bangladeshi bowlers always had an edge over the Kiwi batsmen but in the death overs, when it seemed that yet another World Cup glory waiting for Bangladesh, Shakib made a blunder by not bowling the inform Rubel Hossain who decimated England a few days ago.
He gambled with Nasir Hossain and Mahmudullah's offspinners in the death and in my opinion, it's not worthy enough to gamble when you have the best option available. A Shakib-Rubel combination was much needed. Things could have been different had Rubel operated from the 46th over.
I was left wondering whether Bangladesh wanted to win or not. Yes, they certainly have put up a brave effort against the best side of the tournament, but wouldn't a win be a big psychological boost for them? As an ardent follower of Bangladesh cricket, my expectations are bigger and I want the Tigers to win the maximum amount of matches and not just sit back and smile with these 'brave' efforts every now and then.
Bangladesh have been fearless so far, but this new attitude must be utilized to win matches and not hearts. Time has come for Bangladesh to dream big. And this dream must start with the all important quarterfinal match against neighbours India.