India give Sri Lanka a dose of their own medicine
781 //
24 Aug 2010, 06:46 IST
Revenge is sweet!!! And after Sunday's game, the Indian team turned diabetic. Just when everyone thought the dust had settled after all the controversy surrounding Randhiv's no ball, the Indian cricket team demonstrated just why it is not advisable to mess with the Men in Blue. Believers in the motto, "Don't get mean, get even", Team India thought that Randhiv's ban and Dilshan's fine were not enough, and decided to deliver the knock out punch themselves. In an unprecedented show of unity, the entire Team India rallied together and ensured that none of the Sri Lankan batsmen have a chance of getting to a century. This they did by scoring just a 104 and conceding 11 extras (which they did at the beginning of the Sri Lankans innings so that no would suspect any foul play).
Gary Kirsten was uncharacteristically philosophical in his praise for the turn of events. He said when someone wants anything badly the entire universe conspires to fulfill it. He was explaining that MSD even won the toss on this occasion, something he hadn't done throughout the tour. Meanwhile, even Bishan Singh Bedi, who is always critical of everything that the Indian cricketers do, has appreciated the move.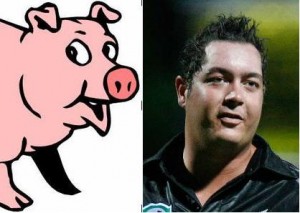 People back home have taken to this news just like Jesse Ryder takes to alcohol – with unabashed enthusiasm. Talking about Jesse Ryder, one just wonders if it was just a coincidence that he was in the IPL team owned by the liquor baron, Vijay Mallya. One thing is for sure, Jesse Ryder might never make it big in cricket, but given his antics he sure is a hot candidate for the Indian television show, Big Boss.
Back home, the Indian Government has decided to give the team the coveted 'Suresh Kalmadi sporting award' – for ensuring that the match had a premature end. Suresh Kalmadi, himself flew to Dambulla – in a flight having leased the ticket for Rs 50,000, when he could have bought it for Rs. 15,000 – to hand over the award to Virender Sehwag who collected it on the team's behalf. Kalmadi told the reporters that cricket is the only sport followed in India and the government was doing everything in its capacity to ensure that other sports also enjoy the same recognition. Henceforth, they would only do whatever BCCI and the people who make up the Indian Cricket do. Suresh Kalmadi still being at the helm of the organising committee is also inline with this objective. He is being retained despite not deserving it, just like Ravindra Jadeja is keeping his place in the team.
Bishan Singh Bedi did object to this statement.