Indian Cricket- One year after the World Cup
1.05K //
30 Mar 2012, 05:16 IST
April 2nd 2011, Wankhede Stadium, Mumbai:  Into the 49th over, 4 runs from 11 balls were required for India to quench their 28-year wait for lifting the ICC World Cup. Kulasekara charges to the crease, Mahendra Singh Dhoni calmly waits at the other end. Captain cool knows the biggest moment of his career is a stroke away, keeping his eyes on the ball he viciously strikes it in the air. A moment of shocked silence as the open-mouthed spectators watch the ball sailing, sailing way into the stands and then hell breaks loose! The crowd erupts in celebration. Yuvraj, the non-striker charges towards Dhoni and bear hugs him. Dhoni still keeps his emotions in check unlike the rest of the team, who are now on the field, jumping, hugging and crying all over the place. Tendulkar, whose career is now the perfect fairy-tale, is carried on the shoulders of Kohli and Raina and he too has tears streaming down his face. The festivities have begun on the streets of every city and town in India. Firecrackers light up the night sky and the pride of being an Indian never felt greater.
India had a perfect end to the perfect season – number one in Test cricket and the new holders of the most prestigious cup that had eluded them since 1983. The future looked bright and why shouldn't it have? The team over the year had found consistency as never before. All aspects of their game were clicking at the same time. As far as individuals were concerned, Tendulkar showed no signs of age catching up. Yuvraj was back in business and looked like he was finally going to do justice to the potential he had. Kohli, Raina were on their way to stardom and Zaheer Khan was in the form of his life. Dhoni also lead the world to believe that whatever he touched turned into gold.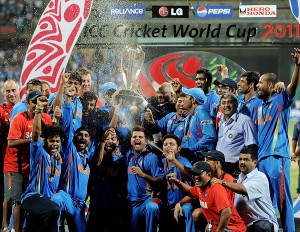 Fast forward- one year later: India have lost their domination in Test cricket, after being whitewashed by England in all forms and Australia, in Tests. Their vulnerability of playing away from the sub-continent has been thoroughly exposed. The only series that the men in blue managed to win were against a weak West Indian side, which they played twice in the year. Even in Bangladesh, India failed to obtain the Asia Cup despite being the highest-ranked side.
The batsmen seemed to appear longer in commercials than they did on the pitch. Yuvraj returned to his slump in England before being diagnosed with cancer and missed the other series. Sehwag continued to remain volatile and displayed his fireworks in his innings of 219 against West Indies but otherwise failed to impress. Gambhir and Raina too had very indifferent seasons in which they barely made any impact. While the whole nation was focused on Tendulkar's 100th ton which till late remained elusive they failed to observe the team's downfall. The master himself got off to good starts but failed to convert. Dhoni's batting and way of captaincy seemed to be going all wrong.
The main reason behind the humiliating series away from home was the lack of a quality bowling attack or for the matter a quality bowler. Zaheer Khan lost his rhythm and looked weary and unfit throughout. Ishant Sharma too looked out of sorts. Harbhajan's magical spin started losing its effects and after being axed against Australia, he seems to have disappeared.  Umesh Yadav, Vinay Kumar and Dinda displayed their ability to generate pace but lacked accuracy. Praveen Kumar and Irfan Pathan made comebacks and did impress in patches. Ashwin did his job and kept the runs down and showed glimpses of all-round ability but didn't manage to pick up as many wickets as he would have hoped.
To make matters worse, India has lost its "Wall", Rahul Dravid who announced his retirement a few weeks ago.  A vacancy at number three is up of grabs and who else should deserve it more than the Indian cricket's silver lining in these dark days – Virat Kohli. After disappointing in Tests, Kohli has finally got his game together and is on a century scoring spree in ODIs and cementing a permanent Test spot should be next on his list. This is a chance for him to mature and bat his way towards greatness.  The further growth of Virat Kohli, Rohit Sharma (who has been in striking form of late) and Raina can lift Indian cricket from its current state and ensure that its future is in safe hands.