My "Dravidian" Moments : A Tribute
1.28K //
10 Mar 2012, 01:02 IST
The accolades pour in for the Legend. As his illustrious teammate and long time friend, Tendulkar rightly summed up "There was and is only one Rahul Dravid. There can be no other." At the juncture when each and every one related to Cricketing fraternity are saluting the Legend, I attempt a small bit from my side in compiling few of my "Dravidian Moments". Am not going to dwell on few of the classics like Kolkatta 2001 or Leeds 2002 or Adelaide 2003. I have made it as my experience of Rahul Dravid.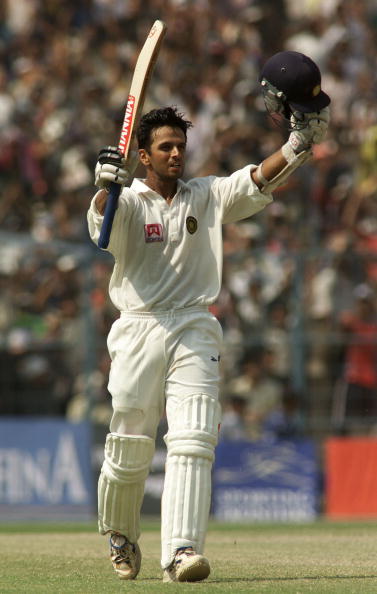 The first time I heard the name was in early 1996. While India was still discussing the World Cup Semifinal loss and the drama that unfolded in the late evening, I first came across a Karnataka boy who made a classic 177 in the Ranji Semifinals. I still remember following "The Hindu" daily for my state Tamil Nadu was fighting with Karnataka for the coveted Ranji Trophy. My first experience of the man was that he pissed me off by scoring a double century against the insipid TN attack and took the Trophy from us. I detested him like anything as a young pre teen guy. Little did I realize that a decade later He would be among my most favourite players.
The England series dawned when two new stalwarts made their name in the annals. The summer of 1996 at England brought to us two of our best cricketing sons. At the Mecca of Cricket, The Lord's Ganguly made a hit scoring century on debut. The other one, Dravid missed it by a meagre 5 runs. Since that innings, despite the abundant talent and ability, Dravid is left to play second fiddle in most occasions. Had he born in an era other than that of Tendulkar or Had he been born in a country other than India, his celebrity status would have been much higher. But then some persons are born to be so.
However the first time, I watched him bat and he stroke a chord with me was in Johannesburg in January 1997. India had by then been humbled twice at the Proteas land and in the final dead rubber, young Dravid playing just his 9th test was fiddling with a menacing attack of Donald, Pollock and Klusner with little support from the other end. He toiled for nearly 9 hours, playing 361 balls for a marathon 148. Can't get a better First hundred right? In the second essay he made 81 and almost won the match for India but for the rain. Since then whenever the side has been in trouble at tough overseas conditions like South Africa, England, Australia or New Zeland, Dravid has been the man to look up at.
Initially he was looked up as a Test player but his first ODI century too came a year later. Again ill luck was that barely a few remember his knock on that sultry summer night at Chennai battling against the Wasim-Waqar duo under lights. Anwar's 194 had already stolen the show. Kambli alone managed to offer some support. From my personal perspective, that was my first experience of watching a Cricket match at the stadium. I was blessed enough to witness the solidarity of Dravid and flamboyance of Anwar on the same evening.
Dravid had slowly established himself in the Indian middle order but the first time, he could get noticed as "The Wall" (a nickname he acquired later) was in the land of Kiwis. India was facing Kiwis at their home after a terrific 1998 and had promptly been fair and square in first match. In the last rubber at Hamilton, he produced a classic 190 in the first innings with support from Tendulkar and Srinath. The rock solid defence that embarked Dravid and the pull were all in display on that day. If that was n't enough he added up with a 103 in the second innings. And I realized I had a second hero to Tendulkar.
His ODI career reached its pinnacle when he was the 1999 World Cup;s highest run getter despite playing 2 less matches than the finalists. He produced two ton innings of high quality against Kenya and Taunton. In the consecutive matches he created record partnerships first with Tendulkar for third wicket and then with Ganguly for the second wicket (First triple hundred partnership in ODIs). In each of those innings he was pushed behind by his two mates and his luck worked against him as usual. Later at Hyderabad against New Zeland, Dravid became the first and only batsman to be involved in both the triple hundred stands of ODI. He along with Tendulkar added 331 runs. He scored his highest ODI score of 153 matching Tendulkar, shot by shot until the 47th over by Chris Drum that Sachin added 28 runs. Soon Tendulkar marched much ahead of Dravid and he was left playing the support cast.
My next and probably the biggest moment was at Eden Gardens in 2001 and on the fag end of Day 3, Dravid joined Laxman. Rest is history. By then he was inching ahead of Tendulkar as India's best batsman and was a perfect team man. Highly successful tour of England in 2002, reiterated by belief that Dravid is no less a Legend to my hero Tendulkar. His face as a team man unparalleled came into display when he donned the keepers gloves for the sake of providing balance for the side. His role is as important as Tendulkar's in taking India to the finals of 2003 World Cup. Once again a very few remember his flamboyant 50 against Pakistan for Sachin has masked it with a brilliant 98. Then came the Adelaide classic. I remember recalling every shot on that day. Probably one time, he got his due for it was Ponting who got masked by Dravid this time.
The only time, I felt bad was when he declared at Multan with Tendulkar a six short of his double. But then Rahul has always kept team ahead of individuals. Not even India's greatest skippers Ganguly or Dhoni would have dared such a bold step. He scored his career best at Rawalpindi making 270 as India won its first series in Pakistan.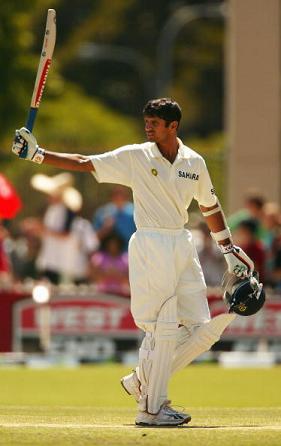 His captaincy has been sandwiched by two of the greatest eras of Indian cricket under Ganguly and Dhoni. But let us not forget that India managed to win a record number of chases in ODIs and was practically winning series after series with scorelines of 6-1, 5-1, 4-1 etc. In one such series against Srilanka that is better remembered for Dhoni's 183, Dravid produced his best ODI innings. At No 5, he made 85 runs of just 63 balls pulverising the Lankan attack. Every stroke in the book was on display and he played as if he was a damn terrific hitter. Such days are unforgettable for our man has always been an orthodox player. Then came the Sabina Park when he made two chanceless half centuries to lead India win a series against West Indies for first time in 26 years.
After a period of lull and loss of form in 2008, prompting to the calls on his head, Dravid essayed a scratchy 116 at Mohali. Here again Gambhir was in fine touch but Dravid in one of his worst phases of career taught us the way to crub the natural instincts and play to the situation. It may not be among the top 10 Dravid knocks but its significance comes from the fact that he toiled for the runs when the form has deserted him. No without reasons they say "Form is temporary, Class is permanent".
In 2009, when India was at the doorstep of No 1 rankings, Ahmedabad witnessed a classic. Walegedra and Dhammika had reduced India to 32-4 on a dust bowl on day 1. Dravid with Yuvraj and Dhoni orchestrated a blissful 178. Though the conditions were much less challenging, he displayed the reason why he is called as "The Wall" giving not a single inch to the opponents.  Final touch was England 2011. When everyone else fell like Nine pins he stood apart, head held high as he has always been at the toughest conditions.
Its rather sad that such a Legend has to bow down with a poor final series against Australia and not even get a proper farewell. But then Luck has never been his. No words can describe his significance to Indian cricket. Tendulkar may have been the best Indian cricketer but Dravid is the best role model for aspirants. Tendulkar's are born. Dravid's are made. He started from the scratch and built a fortress that was unbreakable. Luck may not be his strong point but even Lady Luck cannot prevent a Star from being celebrated. And "The WALL" leaves us in sorrow but pride as he himself mentioned. Salutes to the "LEGEND". Take a bow Sir! We are honoured to have watched your entire career.