Pakistan's highest successful chase in a T20 International came during the World T20 in 2012 against Bangladesh when they chased down a target of 176 with ease winning the match by 8 wickets. Pakistan equalled that record chase of 176 in a T20 International in the second T20 against Zimbabwe on Sunday; and just two days prior to that, Pakistan successfully chased a target of 173 against the same opposition.
Essentially, Pakistan recorded its highest and second highest chase in T20 Internationals in the last two T20s played in Lahore! What a way to welcome cricket back in your country. If someone was given the task to script a movie on the return of cricket to Pakistan, they will not need to shift much from the events of Lahore between Friday and Sunday.
The euphoria was there for all to see
It was purely majestic; all the way from welcoming of Zimbabwe's cricketers at the airport and the hotel to the hunt for tickets, queuing outside Gaddafi for hours in sweltering heat. Cheering for the teams as they walked on to the field amidst mini fireworks, singing along the loudest sung Pakistani national anthem ever, cheering at the sight of the screen that spelled out that this was the first ever T20 International to be played in Lahore.
Raising sound levels by various decibels at Sami's twin strikes, being entertained by Ahmed Shehzad's imaginary selfie, witnessing two imposing innings by Mukhtar Ahmed that involved some audacious shots, screaming at the top of our lungs when Afridi walked out to bat, being pleased at Shahid Afridi hitting the winning runs off the only delivery he faced on Friday and the towering six he smashed on Sunday. Watching Umar Akmal finally play an international match at home, guffawing at the all familiar batting collapse on Friday and Sunday, biting our nails at the close finishes, and jumping in cheer as Pakistan closed off two good chases!
No scriptwriter could have written it better.
The home support was vital in the wins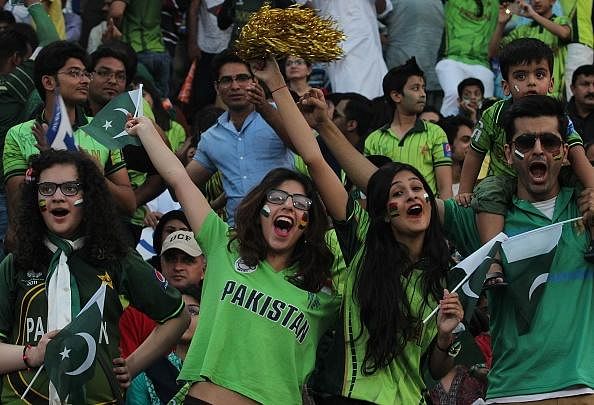 It is debatable whether Pakistan would have managed to chase down the same targets if they were playing anywhere else. Being perennial bad chasers, Pakistan's batting has been found desperately wanting in recent times. In its entire history, Pakistan had successfully chased a total of 150 or above only 3 times prior to these two T20s against Zimbabwe in Lahore. In its past 4 T20s, Pakistan managed scores of 141-5 (20), 127 (20), 140-3 (19.1), and 96-9 (20). None of them was played at home.
Mukhtar Ahmed had a lot to do with Pakistan winning those games despite facing stiff targets; however, I believe it also had a lot to do with the venue. Batting in home conditions seems to bring out the best out of the majority of the batsmen. All records will show that. It definitely has something to do with the familiarity of the conditions, but it also has a lot to do with the confidence derived from knowing your conditions and the adrenaline from the supportive crowd. Confidence and adrenaline do wonders to a batsman's mind.
Mukhtar struggled to a dogged 30 odd in his debut T20 in Bangladesh last month. In contrast, his two innings in Lahore were commanding and dominating. Ahmed Shehzad had struggled to even rotate strike effectively in the past 6-8 months, yet he played a free flowing innings in the first T20 in Lahore, his hometown, his home ground. For too long, the world has seen the likes of Virat Kohli, Hashim Amla, and Steve Smith dominate bowling attacks in their backyards and for too long, Pakistanis have been denied watching their batsmen do the same.
Finally cricket came back home. Finally Pakistan's batsmen looked dominant again! Here's hoping for more dominance in the upcoming ODIs and continued International cricket in Pakistan.