Sachin was scared of me: 'Controversially Yours' Shoaib Akhtar
1.55K //
23 Sep 2011, 16:43 IST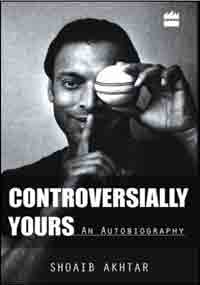 Shoaib Akhtar lives upto his reputation of being the synonym of controversy as he reveals some sensational details in his recently published autobiography. The book authored by Akhtar is perfectly named: "Controversially Yours". Playing the controversy card, Akhtar has grabbed a number of eyeballs from the day one itself. Shoaib claims in the book that master blaster Sachin tendulkar was actually scared of facing Akhtar.
The Rawalpindi express unveiled his autobiography today. Shoaib Akhtar has been always in news for his controversial conduct on and off the field. Once the fastest bowler in world cricket, Akhtar has bowled some sharper deliveries in the autobiography and it will be interesting to see how his victims will respond. In the book, Shoaib boasts how Sachin feared his bowling. In another part of the book, Akhtar also writes that Rahul Dravid and Sachin Tendulkar are not genuine match winners. "I think players like Sachin Tendulkar and Rahul Dravid weren't exactly match winners to start with, nor did they know the art of finishing the game,"Akhtar quips.
In another sensational revelation, Akhtar admits that he tampered balls on many occasions. He also writes that it is not just him but almost every bowler and team does that. As per the book, the Pakistan team was always chased by match fixers whenever they played in India. He also believed to have described how senior players of the Pakistan team were involved in many match fixing incidents. Akhtar recalls that during the 1999 world cup, he was approached twice by the fixers and one of the occasion was the day before the match against India.
He has also accused Lalit Modi and Shahrukh Khan, owner of Kolkata IPL team of scuttling his plans to join ICL at higher price. Akhtar was not pleased with the money he was getting from IPL and discussed with Shahrukh and Modi about it. The duo got him agreed to stay with IPL. Akhtar believes that he "shouldn't have heard them."
The former right-arm fast bowler who played 46 tests and 163 ODIs for Pakistan has also not spared some senior Pakistani players in the book. He has accused legendary bowler Wasim Akram of discouraging the entry of young fast bowlers like him to the national team of Pakistan. "Wasim Akram threatened to walk out with half the team if I was included in the team. He wanted to end my career".
The autobiography of Shoaib Akhtar is published by the Harper Collins India. Priced at Rs. 499, many will love to buy the book to read the sensational stories from the life of the most controversial player of the game.