The Misbah-Afridi combination: Contrasting styles, great partnership
1.98K //
16 Jul 2013, 23:00 IST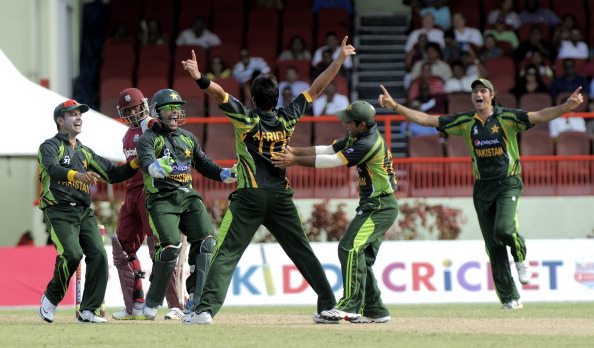 Pakistan Cricket has been through a lot of highs and lows in the last half-a-decade. They were denied the right to hold matches on home soil, they won the 2009 T-20 World Cup, made the semi-finals of the World Cup in 2011, faced spot-fixing rows and so on. The squad has been unsettled for a while now as the selectors keep chopping and changing with every series oscillating from young talent to experienced stalwarts.
The revolving doors policy has added to the unpredictability that has been an innate quality of the Pakistan sides all through history. In the midst of this hassle however, we got a glimpse of a rare moment of balance in the first match that Pakistan played against the West Indies. It is difficult to imagine that a sense of proportion would be brought to the squad by two men who have had their share of tiffs in the past. After all, Misbah's rise to captaincy coincided with Afridi's relegation to the margins of the Pakistan squad.
Thus, when Afridi walked out to bat in the first ODI of the five-match series against the West Indies. He was going to fight a battle for his side that was under massive pressure after having suffered yet another batting melt-down but there must have been a few personal points to make too. He had been dropped from the Pakistan squad twice in the last six months before he was surprisingly selected for the tour to West Indies.
The decision to bring back Afridi was prompted by Pakistan's dismal performance at the Champions Trophy where they failed to win any of their three matches. The batting performance particularly was not encouraging as Pakistan failed to score 200 runs in all of their three matches. Shahid Afridi, however, was perceived to be a bowling-all-rounder more than a proper lower-order batsman.
Misbah-ul-Haq was perceived from the outside to be one of those people in the Pakistan dressing room who were not in support of Afridi's return but he acknowledged that he added to the balance of the side at the press-conference where his return to the side was announced.
In fact, the question that he was asked at the press conference was more pointed. He was asked how difficult it was to pick an out-of-form all-rounder in the absence of other options. It was a very honest question, something that many Pakistan cricket fans would have wanted to ask.
Misbah dodged the question and highlighted that he would be an asset as an 'extra bowler'. He said, "But it doesn't mean he is automatically in the XI. We first have to look at the conditions and then take a call. We are happy with the selection of 16 players and I will be ready to shoulder the responsibility of any result."
Misbah would be delighted that he drafted Afridi into the eleven on the day. Pakistan were reeling at 47/5 even as captain he tried to hold fort at one end when comeback man Shahid Afridi exhibited the showmanship that he is popular for. The wicket was not an easy one to bat upon and Misbah would go on to describe it as one of the most difficult surface he had batted upon.
The pace of his own innings might have been an indication of that as he scored at a strike rate of just over 40.0 to score his 52 runs of 121 balls but it was the kind of innings that was required at that stage. Misbah's stubborn resilience was complemented by Afridi's natural aptitude for flamboyant shot-making.
It was hard to believe that such contrasting characters could come together to steady the ship for Pakistan. Misbah was full of praise for Afridi's exploits. He said, "On a pitch that it was difficult to middle the balls Shahid was hitting fours and sixes." On the other hand, Afridi's post match interview bore a strange kind of conscientious retrospection of his recent slump as he talked about his being at a stage of his career when he needed to contribute to the team's success.
Afridi's 76 runs came off just 55 balls and and in a critical situation. Afridi was a key batsman for Pakistan at one stage of his career and his ODI average of 23.6 does not do justice to the potential he had. He could have developed into a far better cricketer with a bit of consistency and Afridi would be the first to acknowledge that observation.
He formed a formidable opening pairing with Saeed Anwar complementing his reserve with his aggression for a brief while at the end of the last millennium. Misbah's temperament forms a similar foil for the batsman and Pakistan cricket fans would be hoping that the two contrasting characters can come together to build a potent team for 2015.