The world cup so far-A glimpse on matches
880 //
03 Mar 2011, 03:26 IST
Almost 2 weeks have passed since the beginning of this world cup in the sub-continent,and it has already provided some of the best spectacles in the cricketing history with Ind-Eng clash providing absolute spine chilling and a stunner of a match.The cricket called as "a game of uncetainities"completely lived up to its hype when Ind-Eng match was tied after such a high scoring game. No one could believe what happened that day.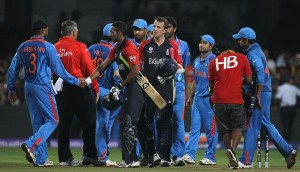 Another match between the two asian giants Pak and Sl at colombo the other night was one of the best match between these two countries and in the end the pakistani spirit prevail and they went with smiling faces.After some smart batting in the middle by the veterans of pakistan line-up,the bowlers backed the team up by some witty and accurate bowling.Though sri lankans started quite well in their chase but got ripped in the middle by the canny captaincy and bowling by pakistan.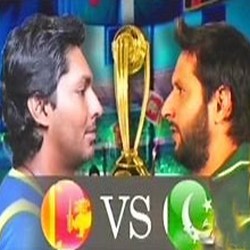 Australia-New Zealand match was doomed as one of the fierce battle between the trans-tasman rivals but it turned out to be a totally lopsided contest on field and kiwis were brutally outplayed by the aussies,who once again proved their daylight supremacy over the New Zealand team.However match between the two minnows Bangladesh and Ireland did provide some spectacular thrilling display of the cricketing skills.The match was slipping away from the favorites Bangladesh,but their experience in cricketing sense helped them snatch victory from relatively inexperienced Irish side after bangladesh slumped to very small total after starting brilliantly by the openers.Once again their inability to convert great starts into huge total came to surface but their bowlers rescued them from an embarrassing defeat and did them proud and most importantly valuable 3 points to stay alive in the tournament.The Bangladeshi crowd once again showed their support in inimitable fashion and that really was the cream of the match.
Ind-Ban opener was also a lop-sided contest in the terms that before second inning was started the writing was on the wall for the Bangladeshi team and in the end it turned out to be a mere formality for Indians to wrap them up well short of the target.the match was good only in the terms of amount of runs scored by both teams.
Aus-Zim match was going good and it looked initially going on way of some upset causing scenes but eventually aussie pacers were too hot to be handled by fragile Zimbabwean batting and they lost by a comprehensive margin.The Zimbabwe bowlers did provide their team in with a chance but their batters disappointed completely and aussies marched on with an all win record in the world cup since 1999 finals.
England-Netherlands encounter actually started this world cup to move in exciting phase and with the gritty play by Dutch cricketers they really grabbed the attention of the cricketing world and though they lost but they earned respect of the fans and teams and look set to go in a positive direction from hereon.
Summer of 69″debacle was doomed on kenyans by the kiwis when they were blown away in the kiwi wind and succumbed to a brutal play in the hands of kiwis.Kenyans were no match for any side so far in this tournament and only team that they can cause some upset to looks to be canada,but even canada has done better than them in terms of their runs.
SL-Canada match was no match in any sense and sri lankans had no problem in crushing over their opponent in their encounter at hambantota which hosted it's first match after Tsunami debacle.And it was pathetic to see such a lacklusturous clash between these two teams.Pakistan had also no problem in crushing kenyans and they were blown out even before their countrymen could switch on their t.v or radio sets back home to know the proceedings.Afridi's googly did them in and their tag of being a semi-finalists at 2003 wc besides India,aus,and sri lanka,just proved ridiculous and puzzling one.Sa-Wi match was deemed as a clash of equals in terms of their power hitting and bowling but windies failed to manage even a challenging total for the proteas and lost the match quite comprehensively,The african spinners especially rookie Imran Tahir was very impressive in that match.Their over dependence on Gayle was again evident and that proved too fatal for them,though young clone of Brian Lara-Darren Bravo did impress in his batting,but it was all too few to even make them competitive against a strong batting of proteas.
Despite all these the coming weeks of this world cup promises to be a cracker in its own and fans can really look forward for some great displays between the teams especially now when the minnows would be more or less ousted from their campaign and more matches will be between the top teams.There were some concerns prior to start of this world cup about the kind of matches it will bring between the associates and the biggies of the tournament and it indeed proved true.Now the onus will be on the 8-top teams to provide a spectacular performance before the crowds and make this world cup a memorable one.And the crowd anticipation at stadiums have been outstanding in every match so,it's responsiblity of the big teams to justify their faith bestowed upon by the fans.