Was Dravid made to leave, the way Dada was?
2.29K //
13 Mar 2012, 17:05 IST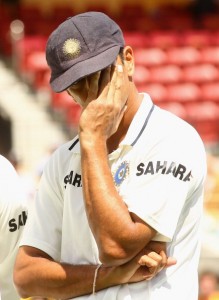 Did the media have anything to do with Rahul Dravid's retirement?
This question had been bothering me ever since the news of Rahul Dravid's retirement broke out. That is why it was important for me to put the question before Dravid during the post-retirement press conference. And this was no ordinary press conference; it consisted of a very niche crowd of cricket writers and also the biggies in the sport—Gundappa Vishwanath, Anil Kumble, Javagal Srinath, Sunil Joshi, Vijay Bharadwaj, et al. The audience also included Dravid's family and his well-wishers. It was a one-of-a-kind announcement.
The last Indian Test player to have retired was Anil Kumble who chose to play a farewell game against Australia during the Border Gavaskar Trophy at the Firozshah Kotla in Delhi, the same venue where he had picked ten wickets. But Dravid's was a sudden announcement, even if it was expected for some time now.
Dravid did try to clear the air about the issue, insisting that recent media reports did not influence him in any way to quit. These are his exact words: "I don't follow every word that is being written. But I know that you get criticized when you don't  do well. Irrespective of how the Australian series had gone, in my own mind I was sure that after the Australian tour, I would sit down and look at a lot of things.  Now it is easy for me to say that but I would like to think that I would have come to the same conclusion. I have confided with my friends that I would sit down and assess the situation after the Australian tour, not only about my own position but also where Indian cricket is at and what should be the way forward". Still, there are reasons to believe that the media certainly did make some impact.
The situation has many parallels with the saga of Sourav Ganguly, or 'Dada'. Back in 2008, the senior players in the team had come under immense scrutiny. India had just lost a Test Series to Sri Lanka and with the Australian team touring India for the Border Gavaskar Series, the Fab Four – VVS Laxman, Saurav Ganguly, Rahul Dravid and Sachin Tendulkar, were put under tremendous pressure. It was widely proclaimed that the four senior player's advancing age would lead to a poor team performance in the tour.
Prior to the start of the tour, the India team were based in Bangalore for a 21-day preparatory camp under the tutelage of coach Gary Kirsten. Each day, one player was made available to talk to the media.  But the men who had come under criticism – Ganguly and VVS Laxman – never appeared before the media.
About ten days before the commencement of the series, the newly appointed selection committee led by Kris Srikanth named Sourav Ganguly in the squad for the first two Tests. There were talks of a 'Voluntary Retirement' scheme being offered to the senior players so that they could exit before they were dropped. But several big names, including Anil Kumble, then India's Test captain, had ridiculed the theory as being mere media speculation.
Then, on the 7th of October, two days before the first Test match in Bangalore, Saurav Ganguly appeared before the press. It was expected that either the team captain or the vice-captain would attend the presser but Ganguly's attendance surprised us all.
Ganguly seemed calm and composed as he answered questions about his selection, his future in the team, and the series ahead. He very patiently answered all queries and even obliged to answer intriguing questions about the retirement of seniors players. He rubbished reports of a voluntery retirement scheme offered by the BCCI.
Just as the Q & A ended and the news channels switched their cameras off, Ganguly continued to speak without moving an inch from his seat.
He said: "Before I leave, I just want to say that this is going to be my last series. I have decided to quit and I have told my teammates before coming here that the series will be my last. I hope I go on a winning note."
His timing was uncharacteristically casual, coming as it did at the end of the daily press conference. His announcement stunned the audience. There was absolute silence and no one knew what had hit them.
He continued to speak before journalists could gather their thoughts and ask questions. This was big. One of the greatest India captains was retiring, and that too without any prior notice (unlike in the case of Dravid, where all journalists got a media invite by the BCCI to attend the press conference).
"To be honest I did not expect to be picked for this series. I have been dropped a few times so I have got used to it now," he further said.
Earlier that day, as the Indian team got ready for the team photograph before practice at the Chinnaswamy stadium, there was one person missing from the picture. Sourav was still in the dressing room and had not joined the team. Just as people around starting talking about 'typical Dadagiri',  Ganguly ran onto the field and joined in. The picture was complete, but for the last time.
Ganguly had also famously said: "When we started, we had greats like Azharuddin, Dilip Vengsarkar and Sanjay Manjerekar. We (the youngsters) performed and we came in (the team). That process will go on. It's all about performance. Every year of your career you will have somebody waiting. Five years ago, it was Dinesh Mongia, Hemang Badani; five years later it's Yuvraj Singh and Rohit Sharma. Five years down the line, it's going to be someone else. That's the way this sport functions and we just have to live with it."
Coming back to Dravid's retirement, it's true that every great player has to make way for youngsters to come in. But has the BCCI found that 'performing youngster' who is deserving of a Test slot ahead of Dravid? Or was this just a case of the media pushing a player to the brink, from where he had no option but to quit?
The very people who had questioned Rahul Dravid's position in the team during Australian series asked him if he didn't want to play another series. They wondered whether he wanted to push his decision by a year.
But why? Why should Dravid continue? So that his greatness is questioned again?
Kumble, before his retirement, had blamed the media for putting the players under scrutiny. He asserted that people need to be respectful when they are criticizing any player. "When discussed rubbishly, and the way it's been portrayed, it really hurts. When people discuss players, it needs to be handled respectfully. If that is done then we don't mind the scrutiny," he had quipped.
So, was Dravid hurt? Did the media-bashing during the Australian tour damage his spirit enough for him to quit the game? The truth will never be told.