We expect to see you in KSCA wearing administrative hat: Kumble to Dravid
1.01K //
09 Mar 2012, 15:54 IST
Anil Kumble has shared 20 years of his cricketing career with team-mate and state-mate Rahul Dravid. On a day Dravid bid adieu to international cricket, Kumble, now the president of Karnataka State Cricket Association paid tribute to Dravid.
Read on: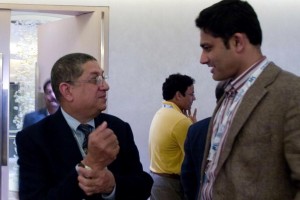 It has been a glorious career embellished by Rahul's contributions to many a memorable victories for India and Karnataka. Let me take this opportunity to congratulate Rahul.
My first thoughts are drawn to Rahul, my friend and colleague for 20 years. Quiet, unassuming and completely consumed by his enthusiasm and passion for the game. Rare are those individuals that hold the unique combination of exceptional talent and commitment. His ability to concentrate for long hours remains unmatched. He is someone who is constantly in search of perfection and this is attributed to his striving for excellence at all times. Over 13,000 runs in Tests, over 10,000 runs in ODIs and over 400 catches in international cricket, a fantastic record indeed, however, they only capture his contributions partly. His reassuring presence at the crease or on the field allowed every other batsman the rare indiscreet shot.
I was really fortunate to have played along side you, its been an honor. You are a perfect ambassador for cricket and an ideal team man. We have shared some wonderful moments together on the field and have had our share of worries as well. In all of it, you have been a constant friend and a colleague that I depended on for advice.
As president of the Karnataka Cricket Association, I wish to say that you are an inspiration and a role model , and you have been responsible for a lot of young cricketers to have taken up the game. You are amongst Karnataka's finest cricketing sons. On behalf of the management I would like to congratulate you on a great career, and am sure the committee will now expect to see you often in the association wearing your administrative hat.
On life after retirement, Sri (Javagal Srinath) and I can surely share a few notes with you. On a serious note, I can tell you that you will become busier with exceptional demands made for your time. Your ability to say 'NO' will be challenged like never before.
We plan to celebrate Rahul's career and achievements befittingly soon.
Finally, I would like to congratulate you again on a glorious incomparable career. Enjoy the much deserved time with family and wish you all the very best in the future.