Will the Aussies' dream run be ended today by Pakistan
701 //
19 Mar 2011, 18:08 IST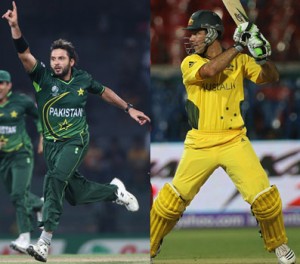 Australia's dominance in test cricket is long known and their knack of breaking new grounds in terms of cricketing record is also not new to cricket followers worldwide.  In the wake of this, the recent winning streak of Australian team in World Cup matches is much talked about.  They have stretched it to 34 unbeaten matches and the last time they were beaten at a World Cup match was by Pakistan,who they take on in today's exciting fixture of group B.  This match may not be important from qualification point of view for both the teams as they are easily placed in top four, but who they take on in their knockout match will be determined by today's result.
Pakistan is arguably the most unpredictable team in the world especially when it comes to ODI's, and this time they haven't been different either as is evident from their surprise win over host Sri Lanka and then being battered completely by less fancied Kiwis.  That makes this Pakistan team really hard to play and plan against and the Aussies will be too well aware of this.  Even captain Ricky Ponting admitted this and called for his player to "give it all" against Pakistan, as they don't want to give any sniff chance to spoil their clean sheet record in World Cup so far.  This is also true as Ponting's side hasn't been really tested in this tournament and as a result they have had a very smooth run so far.  Their match against the tricky Lankans was washed out at the time when they were really pushed hard.  Apart from that they've run over the minnows and the neighbouring Kiwis too.
Comparison of both teams:
Pakistan is arguably the best bowling side in this tournament and has lived up to it's reputation, barring their miserable display in the last four overs against New Zealand.  The likes of Afridi, who is the highest wicket taker in this tournament so far, Umar gul, Shoaib Akhtar and Razzaq provide the right mix of lightning quick fast bowling and cunning medium pace along with Rehman and Hafeez whose tight spin bowling will test the Aussies on Colombo's slow pitch.  So the task is cut out for Watson and co. against the Pakistanis.
Pakistan's top order has been fragile though and hence the likes of Brett lee, Shaun Tait,Johnson and Watson can be too hot to handle.  This makes the job of the vastly experienced middle and lower order batsmen all the more tough for putting up a strong show against Australians.  Misbah, Younus, Razzaq and Afridi will have to play out of their skin against the lightning quicks of Aussies.
As far as the Aussie bowling is concerned, the dearth of a quality spinner looks to be a chink in their otherwise highly potent armory.  Jason kreza has been far from being effective and Steven smith too doesn't seem to enjoy much confidence from his skipper.
Under such circumstances it looks to be a great tussle between the spirited Pakistani team and the buoyant and skillful Aussie team.  A win will not only be a morale booster for Pakistan but for all those teams who are dreading playing their matches against the Australians in the later stage of this World Cup.  For this to happen, mistakes should be minimal and Pakistan should walk a tight rope carefully.  With so much at stake, we're in for another cracker today.