Youngistan repeats Independence Cup final 14 years ago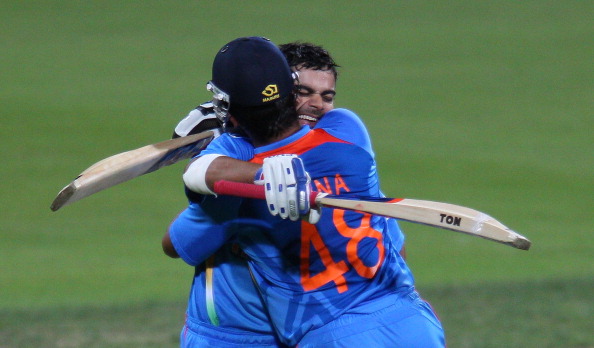 Yesterday's run-chase was like a dream. When Pakistan openers Nasir Jamshed (112) and Mohammad Hafeez (105) were beating the daylights out of Indian bowlers, thus setting up a mammoth total of 329, I almost concluded that we (India) would be fighting a lost game. The recent form of the Indian team being a primary reason for my cynicism. But to my delight, I was proven wrong.
Sunday's win against Pakistan rightfully belonged to one man. Scoring more than half of the target, Virat Kohli (183 off 148 balls) continues to reinstate his position in the team as a match winner.
Much of the record-breaking chase in the Asia Cup match must have brought back the memories of a similar epic encounter between the two rivals about 14 years ago.  It was January 18, 1998—the third final of Silver Jubilee Independence Cup played between India and Pakistan.
Putting into bat first, Pakistan raked up 314 runs for the loss of five wickets. Ten years ago, this was considered as a monumental total—sure shot to gain a victory. Saeed Anwar (140) and Ijaz Ahmed (117) played pivotal roles in establishing a record target of 314 runs.
Similar such roles were played by Jamshed and Hafeez against the MS Dhoni led squad.
Javagal Srinath and Harvinder Singh, the two decisive pacers for India then, played mute spectators to Pakistan duo's clinical innings.
But it was the young and unabashed knock that Saurav Ganguly played which saw India through. His 124 off 138 balls that included 11 boundaries and a six saw a dominating response to the Pakistani brutal attack on the Indian pace attack.
Robin Singh had played the role of Suresh Raina. Singh had scored 82 runs off 83 balls—a well assisted innings—and constructed a stable 179-run partnership for the second wicket. Sachin played a role that he did yesterday by scoring a blistering 41 off just 26 balls.
The Indian team led by Mohammad Azharuddin clinched the match with seven wickets remaining and a ball left to end the match. Both the innings were reduced by two overs due to bad lights. India had chased 314 in 47.5 overs, which in 1998 was a world record. It was a one-match show performed by Ganguly who went on to become one of the most successful India captains in the years to come. Virat Kohli might well be at the start of the very fame.
Back in the 90's, India-Pakistan matches used to give goosebumps to cricket lovers. But in recent times, the clash of arch rivals has been devalued to the extent that the first thought that comes to mind is fixing. Sunday's game being the first match since the two teams' dubious World Cup semis last year that has come under the cloud of fixing, I am glad Virat Kohli's charmed innings has helped in upholding the excitement of the rivalry.
A pile of records by Kohli:
-Scoring 732 runs is a record for setting up highest individual score by a visiting batsman at Mirpur. The record was earlier held by Gautham Gambhir who has 619 runs to his credit.
-Kohli's 183 is the third highest individual score in ODIs while chasing. Shane Watson's 185 not out in 2011 and MS Dhoni's 183 not out in 2005 secure the top two spots.
-At 23, Kohli is the youngest Indian batsman to score 150 plus runs in an ODI. MSD held this record previously when he had scored 183 against Sri Lanka at the age of 24 back in 2005.
- Kohli's 183 is also the highest score against Pakistan in an ODI. The record was previously held by Brian Lara who had scored 156 in Adelaide in 2005.