Chandra in semis of National Pool
786 //
20 Nov 2012, 20:05 IST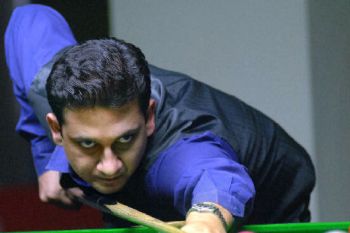 Mumbai - Manan Chandra of Petroleum Sports Promotion Board (PSPB) was in devastating form as he bulldozed his way into the semifinals of the men's 8?ball competition at the NSCI?National Pool Championship.
The two?time national champion enjoyed an excellent run of the balls as he breezed to a 7?0 win against Maharashtra's Kabil Badami in the race to seven rack quarterfinal contest on Tuesday evening.
Chandra, who also has five National 9?ball titles, had earlier steam?rolled past J. Ganesh of Railways 6?0 in the race to six rack pre?quarterfinal encounter.
In other men's quarterfinal action, defending champion Alok Kumar of PSPB crashed out losing 3?7 to Sandeep Gulati of Delhi while Sumit Talwar ended the dream?run of 19?year?old Nitesh Madan of Delhi and Shabaz Khan of PSPB outplayed Hasan Badami 7?2.
Chandra's wife Anuja also showed good touch by winning both her Group B matches of the women's 8?ball double elimination round to qualify for the quarterfinals.
Judy Walia of Karnataka and Maharashtra's Neeta Sanghvi also won their matches to join Anuja in the last eight round.
Earlier, in the pre?quarterfinals, Alok had shown the door to Faisal Khan (RSPB) winning by a 6?3 margin and set up a interesting quarterfinal clash with Gulati, who tamed K. Venkatesham (RSPB) 6?4.
Results:
Quarterfinals: Sumit Talwar beat Nitesh Madan 7?5, Shabaaz Khan beat Hasan Badami 7?2, Manan Chandra beat Kabil Badami 7?0, Sandeep Gulati beat Alok Kumar 7?3.
Men's 8?ball (Round of 32): Sumit Talwar beat Shivam Arora 6?3, Varun Kumar beat Deepak Kumar 6?0, Nitesh Madan beat Siddharth Parikh 6?5, Dharminder Lilly beat Rishabh Pandya 6?2, Arun Kumar V.N. beat B. Balaji Reddy 6?3, Shabaaz Khan beat Dilip Kumar 6?4, Hasan Badami beat Lalsangzela 6?4, Divya Sharma beat Devendra Joshi 6?4, Kabil Badami beat Lalrina Renthlel 6?4, Bunty Retra beat Sumeet Devang 6?4, J. Ganesh beat Shoaib Khan 6?5, Manan Chandra beat Mangesh N. 6?4, K. Venkatesham beat Vijay Nichani 6?4, Sandeep Gulati beat Tanmay Shah 6?0, Faisal Khan beat Laxman Rawat 6?4, Alok Kumar beat Ishpreet Chadha 6?2.
Women's 8?ball (double elimination round): Group?A: Judy Walia beat Shilpa S. 3?1, R. Umadevi Nagraj beat Menal Thakur, Group?B: Anuja Chandra beat Heena Khandelwal 3?0, Keerath Bhandaal beat Indira Gowda 3?2, Neeta Sanghvi beat Bhanumathi Mendon 3?1, Sangeeta Hemchand beat Suniti Damani 3?2, Anuja Chandra beat Keerath Bhandaal 3?0, Neeta Sanghvi beat Sangeeta Henchand 3?2.