SPG-Park Club Billiards Tournament: Tengra, Jagdale snatch thrillers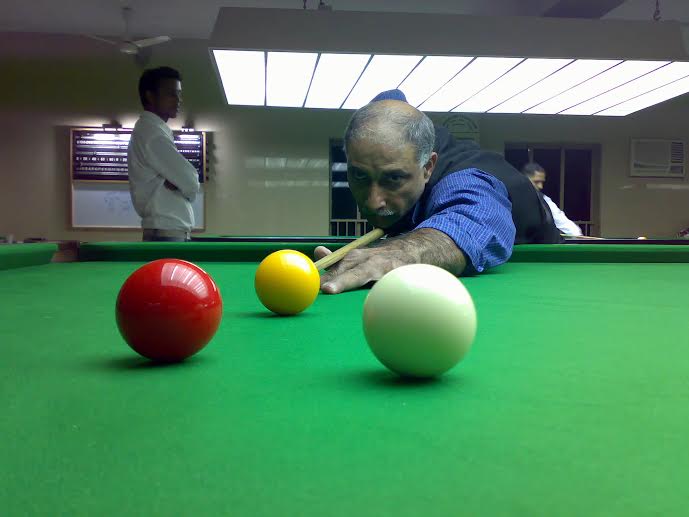 Seasoned Elphinstone Cricket Club cueists Farad Tengra and Mahesh Jagdale fashioned nail-biting wins to storm into the elite round robin, in the SPG-Park Club Open Billiards Handicap Tournament on Monday.
The duo inspired an exciting day of billiards action and close encounters as Tengra halted Shivaji Park Gymkhana marker Jeet Gawde 200-198 in the most riveting match of the day, while former state champion Jagdale edged past 80-year-old Jal Singporevala 200-191 in another absorbing knock out contest.
Gawde, playing on home turf and in familiar conditions and started on scratch, frittered away an envious 196-122 lead, aided by a significant break of 36 in the race-to-200 tie and needed just two points at 198-197 for a famous win.
The experienced Tengra, playing with a -150 handicap, held his nerves to fire a break of 47 that included two flukes to close in at 169-196. He added another break of 28 to lead 197-196 that rattled Gawde who regained the lead at 198-197 with a white pot. Gawde then missed a red in-off before Tengra returned to fire in the red to seal a pulsating win.
Playing with a +30 handicap, octogenarian Singporevala also came close to registering a famous win but frittered away the opportunity after leading in his match against Jagdale who was playing with a -220 handicap. Jagdale hit significant half-century breaks to catch up with Singporevala at 145, before the latter snatched the advantage again with a break of 32 to lead 177-145.
Jagdale, a former India junior No. 3, then relied on small breaks before adding a significant 68 at the end to lead 198-191. Singporevala was down but not out when he missed a crucial red pot in the centre pocket that changed his fortunes. Jagdale, who missed a red in-off just before that, seized the opportunity to end Singporevala's campaign.
In contrast, septuagenarian Prakash Rajani of Khar Gymkhana upset Chandresh Shah of PJ Hindu Gymkhana, while Manoj Kasare also of Khar Gymkhana stunned Raj Khandwala of CCI.
Sixteen players qualify for the round robin main draw that will have eight groups of three players each including elite cueists, Ashok Shandilya, former world No. 7 Nalin Patel, twice world runner-up Dhruv Sitwala, state champion Arun Agrawal, his son Aditya Agrawal, V. 'Raja Subramanian, junior India No. 1 Dhwaj Haria of Gujarat and veteran Subhash Agrawal.
Two players from each group in the round robin main draw will qualify for the knock out pre-quarter-finals that kicks off the final phase.
Results: Hasan Badami (-40, CCI) bt Ankit Thacker (scr, Matunga Gym) 200-172; Yash Rungta (-60, Kandivali) bt Rovin D'Souza (-20, PJ Hindu Gym) 200-112; Rishabh Kumar (-60, Bombay Gym) bt Pramod Mhatre (+20, Park Club) 200-95; Farhad Tengra (-120, Elphinstone CC) bt Jeet Gawde (scr, SPG) 200-198; Rohan Jambusaria (-40, MCF) bt Amandeep Kohli (-20, Khar Gym) 200(unf 91)-140; Mahesh Jagdale (-220, Elphinstone CC) bt Jal Singporevala (+30, DPCG) 200-191; Manoj Kasare (-10, Khar Gym) bt Raj Khandwala (-30, CCI) 200-104; Kabil Badami (scr, Bombay Gym) bt Nikhil Ghadge (-50, Matunga Gym) 200-176; Prakash Rajani (+10, Khar Gym) bt Chandresh Shah (-150, PJ Hindu Gym) 200-11.