Artifact News: Over half the active player base has been lost in a week
378 //
08 Dec 2018, 04:51 IST
Valve's Trading Card Game based on their popular MOBA Dota 2 has seen a significant drop in the number of active players. According to the chart below, pulled from SteamDB, the game's active player base has dropped by over half. The numbers don't seem to stop dropping either. The peak number of players was on Dec 3, with over 40,000 players.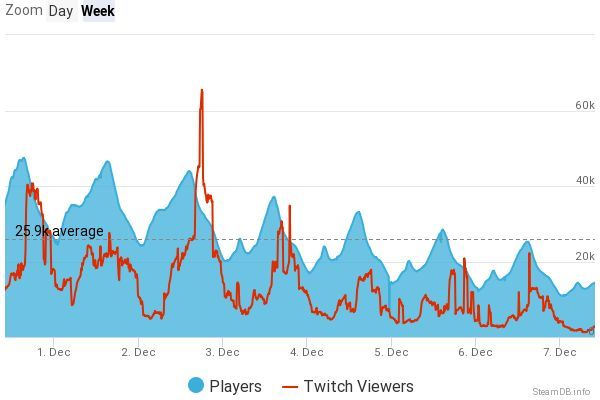 Artifact's game economy has been a huge cause of concern during release. The game is locked behind a $20 paywall, after which the player will also need to buy packs which give you chances of having duplicates. Valve has added a free draft mode since then and allows cards to be sold in the Steam marketplace, which technically makes it cheaper to get cards compared to competitors such as Hearthstone and Magic: The Gathering.
The number of viewers on Twitch has also significantly declined. Artifact had two tournaments, The Artifact Preview Tournament by Beyond the Summit and the Mighty Triad: Strength by WePlay which had high viewership counts when they started, but gradually lost viewership.
Valve has plans to host a $1 million tournament later in 2019, but the viewership and player base drop seems to challenge that idea. Meanwhile, Hearthstone has $4 million worth of esports being hosted in 2019 and Magic: The Gathering has around $10 million thrown in for esports and sponsorship contracts.
Artifact is a well designed and challenging game, without much reliance on RNG and more application of skill. Why is it struggling so much? The pay-for-everything model the game currently has, including the $20 purchase and $1 event tickets paired with a lack of real progression and a lack of alternate pack grinding methods has seemed to make players lose interest.
Valve is taking an active effort to listen to the community's concerns and still has a loyal fan base following and playing the game. But is the future of Artifact at risk?