Twitch streamer Natalia "Alinity" was recently banned from the platform, as reported by the Streamer Bans bot on Twitter. The creator promptly took to social media to blast the Amazon-owned platform for the ban, alleging that she had received the suspension for twerking on stream. After calling out Twitch, Natalia indicated she might move to a new platform.
As noted by Streamer Bans, this was Alinity's second ban from the platform, and the suspension will last for three days. In a subsequent tweet, the streamer announced that Twitch is a "bullsh*t a*s platform" and that the penalty was less the first time she was banned for an explicit wardrobe malfunction.
She wrote:
"Got banned on Twitch for TWERKING. Yes, really. What a bullsh*t a*s platform, thinking on taking business somewhere else."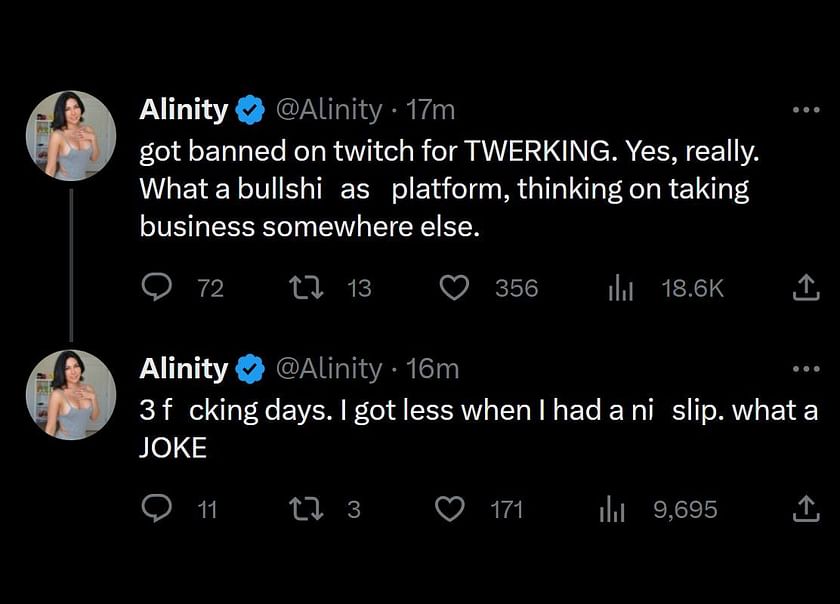 In the same thread, the streamer noted:
"3 f*cking days. I got less when I had a ni*lslip. What a JOKE"
---
Alinity's Twitch ban for twerking sparks discussion about moving to Kick or Rumble
The reason for the ban was the subject of much discussion within the streaming community. From links shared on social media, it appears that Alinity's ban is in reference to her twerking on stream last week when DJ Ariathome was making custom music for her, and she danced beside him.
Alinity has posted the clip on her Twitter, calling it ironic that she was banned for being fully clothed and dancing on stream. Furthermore, she has called out Twitch for not banning those with "way worse" content on the platform. When she told Twitch staff the same, they explained that things need to be reported for them to get banned.
The streamer's ban has started a discussion on social media, with many Redditors of the subreddit r/LivestreamFail discussing the advantages of moving to other platforms such as YouTube, Kick, and Rumble.
One Redditor, by the moniker Enfrozt, brought up the example of other streamers who make content on platforms other than Twitch, such as Destiny, who recently signed a contract with Kick and Rumble.
The Redditor came to the conclusion that Alinity would do better there, saying:
Here are some more reactions to the ban from Twitter and Reddit, with many agreeing that twerking has been banned on the platform for many years:
Other fans noted that she should move to other platforms, with many mentioning Kick and Rumble in the replies:
---
While it is fairly uncommon, streamers have claimed to have received bans and suspensions from Twitch for twerking on stream. For example, Greekgodx claimed he was banned for the act last year, although many think it might be because of his misogynistic comments.
Edited by Dinesh Renthlei