Pele names Ronaldo, Neymar in his FIFA 18 Ultimate Team Squad Battle side
5.75K //
08 Jan 2018, 17:18 IST
Pele's Ultimate Team looks formidable
What's the story?
Brazilian legend Pele named current superstar Neymar alongside himself and Ronaldo in his FIFA 18 Ultimate Team Squad Battle side. The 77-year-old opted to go for an all Brazilian side as he shied away from naming either of Lionel Messi or Cristiano Ronaldo in his Ultimate Team.
Here is the entire squad: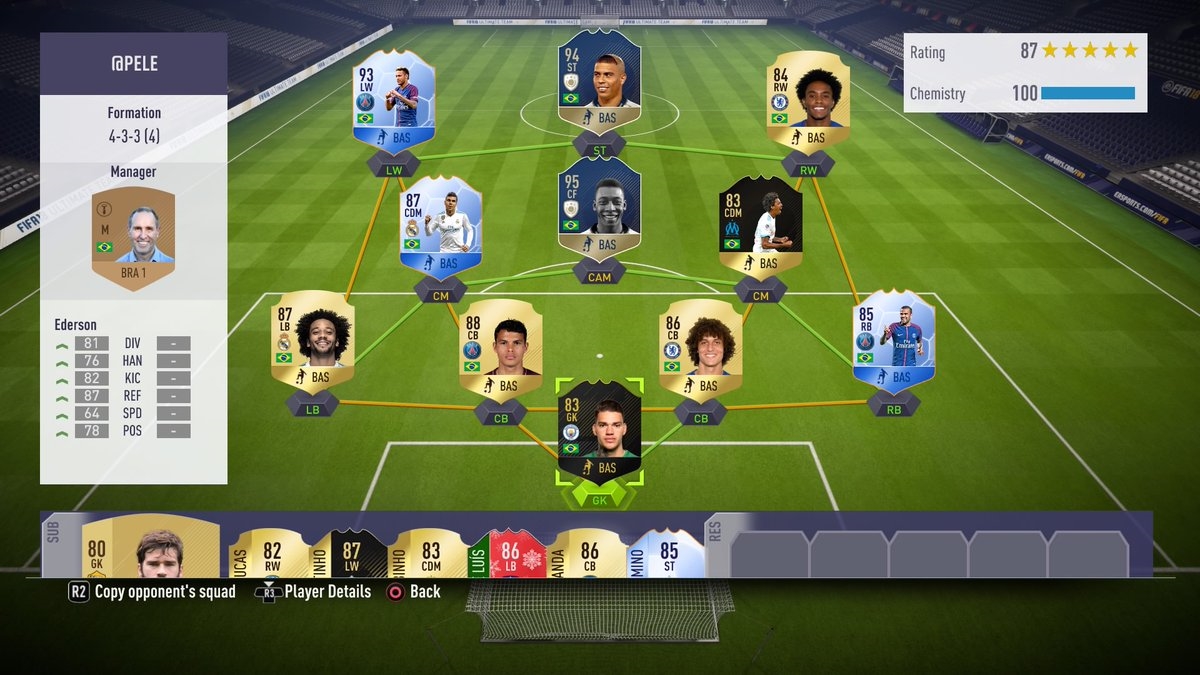 In case you didn't know…
One of the most significant additions to the list of FIFA 18 features was the Ultimate Team Squad Battles. This new feature allows a player to earn more points and packs to bolster his overall rank.
The heart of the matter
Apart from Ronaldo and Neymar, modern-day stars like Ederson Morales, Dani Alves, Marcelo, Willian, among others, all found a place in Pele's team.
While Neymar and Willian are given the responsibilities of manning the left and right flanks respectively, former Real Madrid star and 2002 World Cup winner, Ronaldo gets the nod up front. In defence, Dani Alves and Marcelo are deployed as side backs while Thiago Silva and David Luiz are the two centre-backs. Casemiro and Luiz Gustavo form the defensive screen ahead of the final line of defence.
The team is set up in a way such that Pele himself gets plenty of attacking freedom in the No.10 role. Meanwhile, the likes Felipe Luis, Roberto Firmino, Miranda and Lucas found their names on the substitute bench.
The squad earns an overall rating of 87, which, as it is, is quite impressive.
What's next?
It will be interesting to see how this team performs in the game, more so, if Pele has the joystick in his hands!
Author's take
In an ultimate blend of legends of the past and modern day superstars, Pele has formed a formidable team. One would require more than just luck to face off against this Ultimate XI!