A recent job posting by Nixxes might have spilled the beans on the next PlayStation game possibly making the jump from PS5 to PC - Ratchet & Clank: Rift Apart.
Nixxes, a recent Sony acquisition, is best known for collaborating with fellow PlayStation studio Insomniac Games and bringing the two web-slinging titles, Marvel's Spider-Man Remastered and Marvel's Spider-Man Miles Morales, to PC last year.
As noted by Reddit user u/Veloxz over on the r/GamingLeaksAndRumours subreddit, the job posting mentions "Experience in using Coherent Middleware" as an additional benefit for applicants. For those unaware, Middleware is a video game UI (user interface) designed by Coherent Labs and is used in multiple games. Most notable of those titles is Ratchet & Clank: Rift Apart.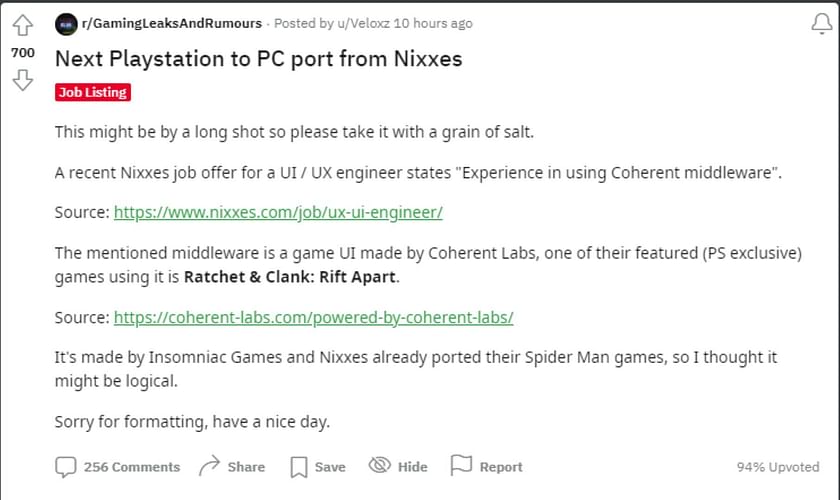 ---
What to expect from the future of PS5 exclusive titles on PC? Last of Us Part 1, Ratchet & Clank: Rift Apart, and more
Since porting the erstwhile PS4 exclusive Horizon Zero Dawn to PC back in 2020, PlayStation has found a new avenue for its first-party titles beyond the console space and a new demographic of audiences to cater to. Following Horizon Zero Dawn, the leading console maker has published several of their first first-party titles, ranging from blockbusters like God of War and the two Spider-Man games to smaller hits like Sackboy and Returnal.
Later this month, PlayStation PC, Sony's publishing arm for the PC release, is set to launch The Last of Us Part 1, a remake of the original 2013 Naughty Dog title, released last year on PC. Barring that, what's next is anyone's guess.
Skipping over previous entries in a franchise to release only the latest entry isn't new to PlayStation's PC release strategy. As such, Rift Apart being the first Ratchet & Clank title to debut on the platform isn't unreasonable. However, when it gets released is anyone's guess.
PlayStation has quite a few titles in its recent back catalog that PC gamers would love to get their hands on, from the heavily rumored Gran Turismo 7 and Ghost of Tsushima to the much-requested Demon Souls and Bloodborne.
Edited by Sandeep Banerjee