Dani Carvajal has a crazy new card in FIFA 19 Ultimate Team and it is just brilliant! The Headliner card has been given to a select set of players who has at least one performance-based in-form but not an existing dynamic item (Ones To Watch etc), TOTY card or a base card rated 90 and above in FUT.
While all the players are in the packs, only two have been released via SBCs -- Marco Arnautovic and Dani Carvajal. Here are the requirements to complete the Carvajal SBC:
For the 87 rated card, EA want the following:
– IF Players: Min 2
– Number of players from Spain: Min 3
– Same League Count: Max 6
– Squad Rating: Min 85
– Team Chemistry: Min 75
– Number of players in the Squad: 11
The squad must be built in the 4-3-2-1 formation.
We have found a few solutions to the SBC but they are not very cheap.
---
#1 – Cost to complete the SBC – PS4: 188k | Xbox: 198k | PC: 256k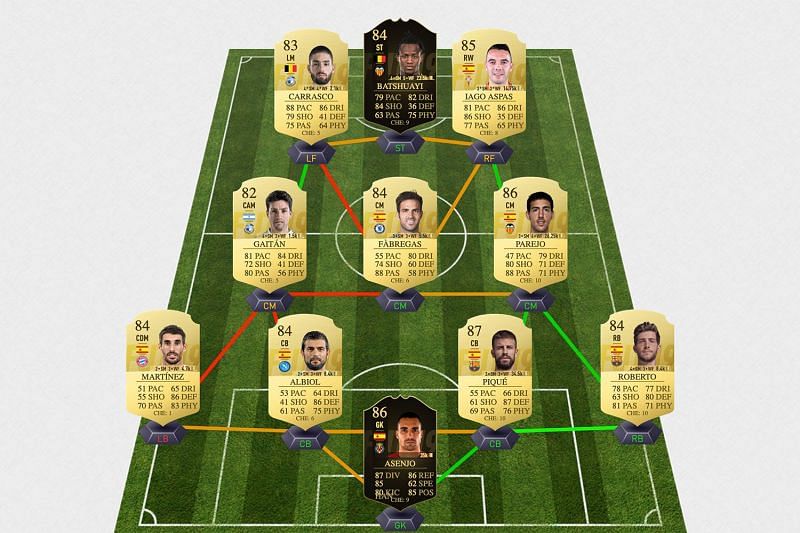 Michy Batshuayi is the easiest and the cheapest to get among these players. You just need to complete his FUT SWAP SBC and you can have him. One FUT SWAP item is given to all for free at the start of the month and for the other three, you just need to play 15 Online matches (Division Rival, Weekend League or Online Draft), Score 2+ goals in 10 matches (Any in FUT) and Win 4 Division Rival matches by 2+ goals.
If you get Michy via the SBC, the overall cost comes down by around 28k, making the overall cost come down from 188k to 150k on PS4. The costliest player is likely to be Pique – around 30k with the others gettable around 20k each.
#2 – Cost to complete the SBC – PS4: 192k | Xbox: 198k | PC: 233k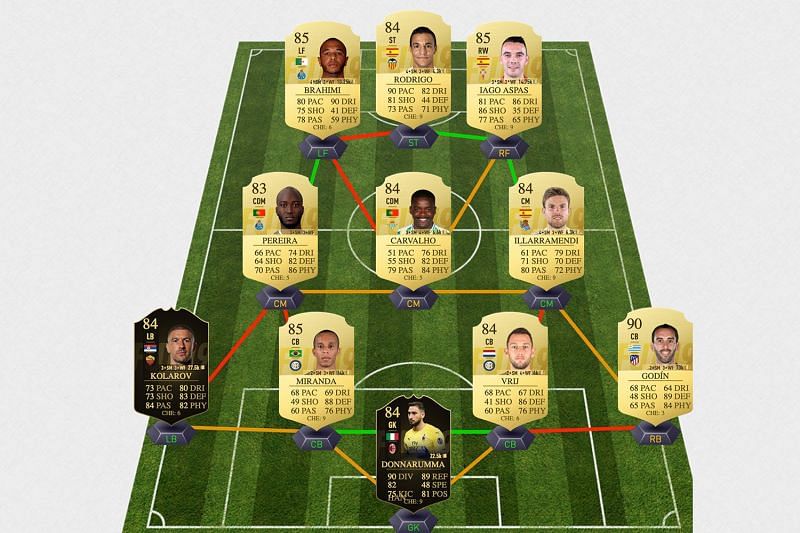 If you do not have William Carvalho in your squad, there is something wrong. Despite having a rare card, he has been packed by everyone in almost every other pack.
The others, however, are all actually rare. Of these players, I have only packed Godin once (sold straight away) and Miranda twice (both used in SBC). None of the others are actually used by the players as well and are usually used for SBCs.
This team will cost you upwards of 192k coins (on PS4) but if you are really in need of a LaLiga or a Spanish right-back, Carvajal is the best to get. Easily the best non-icon right-back in the game, maybe even better than Lala – who also has a Headliners card, but it costs over 300k easily on PS4.
#3 – Cost to complete the SBC – PS4: 183k | Xbox: 195k | PC: 232k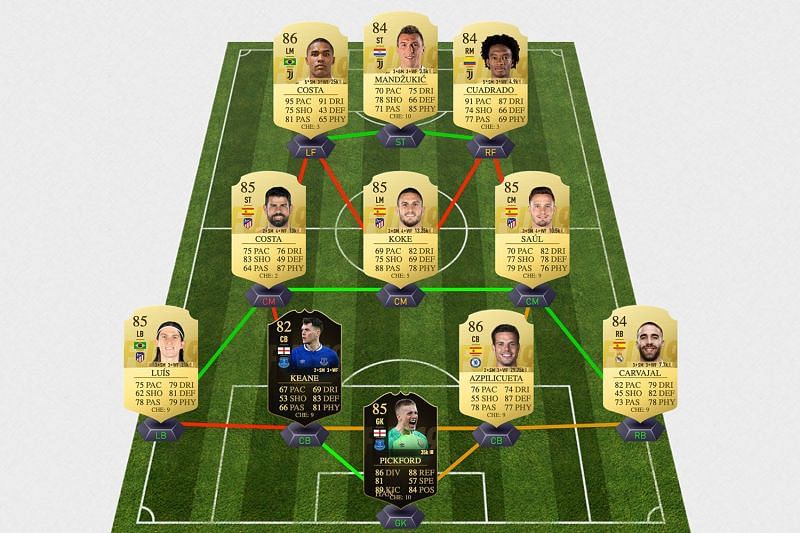 The third and final solution I managed with the players I could easily get is probably the cheapest if you have a couple of players. I had Azpilicueta, Carvajal and Saul, so the cost came down a little for me.
If you do not have any players, it will cost you over 180k even if you snipe them at a low cost. Just like the other sides, I showed in this slide, this one too does not need loyalty. The other two might need it if you don't have position changers but in this one, the chemistry is easily around 90.
Mandzukic is the easily available player in the squad, and if you don't have him, he should cost around 4k max, nothing more. I have gone with Michael Keane and Jordan Pickford as the TOTW players as they are available for around 20k coins.
Edited by Sudeshna Banerjee