Zlatan Ibrahimovic, Lionel Messi beaten by Schalke defender in bizarre power striker ratings in FIFA 18
2.74K //
18 Sep 2017, 15:37 IST
What's the story?
FIFA 18 is all set to roll out later this month and its publishers, EA Sports, have upped the excitement levels in the buildup to the big release with the recent ratings reveal. While Cristiano Ronaldo and Lionel Messi lead the ratings leaderboard, an unfamiliar name has sprung up in the shooting stakes in FIFA 18.
FIFA 18 gamers will attest to the fact that it is better to have a player who can shoot well than one who does everything but shooting, since scoring goals is the essence of the game. In that regard, the lofty standing of Schalke defender Naldo in the most powerful shooters' list in FIFA 18 is more than surprising.
The Brazilian is just behind Cristiano Ronaldo and Lukas Podolski in FIFA 18's list of players with the highest shot power and is ahead of the likes of numerous illustrious names like Messi, Zlatan Ibrahimovic, and Gareth Bale among others.
In case you didn't know...
EA Sports started revealing the player ratings for FIFA 18 earlier this month to amp up the anticipation ahead of the game's demo launch. Having unveiled the top 100 FIFA 18 players, EA Sports have also been publishing the ratings of plenty non-top 100 players, one of which is Naldo, who has an overall 82-rated card in the game.
The heart of the matter
Naldo surprisingly finds himself among some of the best strikers of a football and sandwiches Ibrahimovic and Podolski in the top power shooters' list. The Brazilian has a decent 82-rated card and his job primarily is to defend, but he can also be used as a lethal weapon going forward.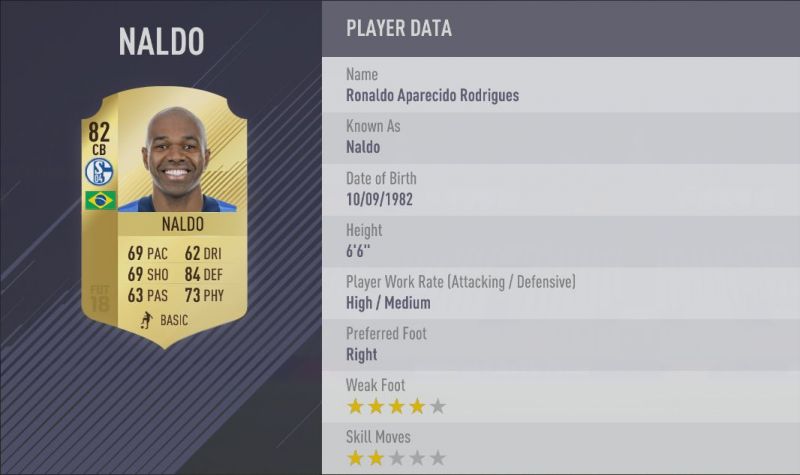 However, with a pace rating of 69, dribble 62, shooting 69, and passing 63, not many FIFA 18 players would be keen to use him up top as an option to take potshots from range. The defender is ahead of Ibrahimovic, Bale, Aleksandar Kolarov, Paul Pogba, Bradley Johnson, Johannes Geis and Nauzet Aleman in the top 10 power hitters in FIFA 18, a list where Messi doesn't even feature. Fair enough, if you consider power isn't exactly the Argentine's forte.
Only Ronaldo and Podolski are rated higher than Naldo in this particular category. Ronaldo, the cover star of FIFA 18, is among the best players in the game and his all-round brilliance also shows in this list of players.
What's next?
FIFA 18 is all set to hit the stores on 29th September and is expected to be EA Sports' highest grossing label ever.
Author's take
Defenders have long been known to possess a fierce shot but whether Naldo really packs a heavier punch than Ibrahimovic or Bale is up for debate. Being a pure striker, Ibrahimovic has been shooting balls at goal for ages now and clearly deserves a better standing than Naldo, hence it could be said EA Sports made another big mistake in judgment in FIFA 18's ratings.