21st Kohima Royal Gold Cup from November 16 onwards
The 21st edition of Kohima Royal Gold Cup will take place from November 16 to 29, 2012 at the Local Ground, Kohima. The Royal Gold Cup, organized by the Royal Club in Kohima, is the only football tournament in the state of Nagaland to be affiliated t...
News
12 Nov 2012, 00:19 IST
598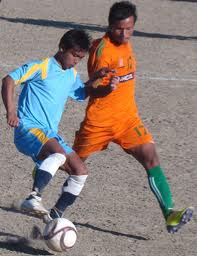 Amongst the 12 participating teams will be seven time champions Nagaland Police and 2002 winners Assam Regimental Centre, Shillong. The other sides taking part are the Kohima Komets, HQ IGAR, Imphal East FA, Flamingos FC, Twenty XI, Head Hunters, Assam Police, AIM – Imphal, Life Sports FC and Aizawl FC.
The winning team will walk home with cash prize of Rs 150,000 (1.5 lakhs), while the runners-up would receive Rs 100,000 (1 lakh) with both finalists getting trophies and citations.
FIXTURES
Pre-Quarterfinals
16-Nov-2012: Kohima Komets – HQ IGAR
17-Nov-2012: Head Hunter – Nagaland Police
19-Nov-2012: Flamingos FC – Twenty XI
20-Nov-2012: AIM Imphal – Life Sports FC
Quarterfinals
21-Nov-2012: Imphal East FA- Kohima Komets / HQ IGAR
22-Nov-2012: Assam Police – Head Hunter /Nagaland Police
23-Nov-2012: ARC, Shillong – Flamingos FC /Twenty XI
24-Nov-2012: Aizawl FC – AIM, Imphal /Life Sports FC
Semifinal
26-Nov-2012: Winner QF 1 – Winner QF 2
27-Nov-2012: Winner QF 3 – Winner QF 4
Final
29-Nov-2012: Winner SF 1 – Winner SF 2