5 Talking Points from Aston Villa vs Manchester United
1.04K //
11 Nov 2012, 13:27 IST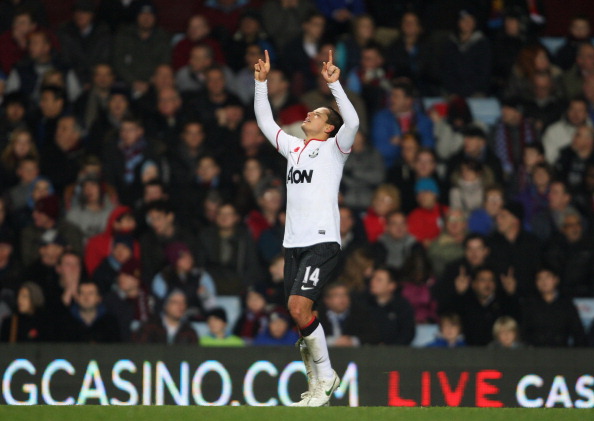 You know, the writing was on the wall. It was akin to a Bollywood script (i.e., on expected lines). And the end was as it always is. Let us now see the five major talking points of this game:
1- DEFENSIVE FRAILTIES: United, as they have been for large parts of this season, were absolutely abysmal in their defending. Villa played very well in the opening half and kept testing United's rearguard, taking the lead courtesy of Smalling getting shrugged off like he never existed and Weimann slamming the ball past a hapless De Gea. Weimann would go score the second goal in the second half and he would've got a third had he placed his header later in the game on either side of the keeper.
Villa took full advantage of United's god-awful defending. Ferdinand, in my opinion, was the only decent performer today. Rafael assisted yet again but was suspect defensively. Smalling was clearly under pressure and needs games to become better. He was way below par today. Evra has been bad for two seasons running so I won't say anything more.
2- CHICHARITO: What a season he is having. United's decision to keep him away from the Olympics paid dividends, as he came off the bench and single-handedly delivered the three points for his side. He deserves all the accolades bestowed on him after such a magnificent performance. You knew in your heart that he would pop up and score the goals. And he did. Once United got to 2-2 (wasn't it invariable?!), it was a question of when they'd go on and win it. And Chicharito diverted RvP's free kick expertly past Guzan.
The Mexican had a slow start to the season and there were big question marks over how he would fit in and get games now that United had Batman and Robin. However, his performance against Villa and over the past month has shown (to the delight of the United faithful) that he can rise to the challenge time and again.
3- UNLUCKY LAMBERT: Paul Lambert will be a distraught man. His team was clearly on top for much of the game and deservedly raced to a two-goal lead by the 51st minute. They hassled United's players and didn't allow them to impose their will on the match. All the players put in a good shift and should justifiably be saying that they are turning the corner this season.
Darren Bent might be out, but Benteke and Agbonlahor continued their fine form and gave the United defenders a torrid time. Benteke held up the ball very well whenever he had it and gave a good showing today. Agbonlahor didn't score, but gave Evra a nightmare with his pace. He beat Evra time and again and was unlucky to be on the losing side.
4- SIR ALEX`S DECISIVE DECISIONS: With United going into the break 1-0 down, Sir Alex decided to haul off Villa old boy Young and bring Chicharito on, with Rooney going out wide on the left side. We all know how that decision turned out! Chicharito went on to give United all three points with typical goals. Sir Alex took off Scholes when the Ginger Prince was tiring, and replaced him with the fresh and energetic Cleverley.
With Rooney getting a knock in the 78th minute, Sir Alex acted quickly and brought Anderson on. Tom Cleverley moved wide left then. Anderson's driving runs through the middle turned out to be a handful for the tiring Villa players.
5- UNITED`S INDOMITABLE SPIRIT: It is a common occurrence now. United fall behind, they level and then go on and win it. In five of their last seven EPL games, they've fallen behind before going to win the match. It's almost as if the players tell the opposition to score as many as they can before United come to the party. United have had 15 different goal scorers this season and the way in which the strikers are going, all four of them will easily be in double figures come the end of the term.
Names may change, but the desire to win never goes. That's Manchester United for you.