69th Santosh Trophy: Groups and Fixtures
1.76K //
02 Feb 2015, 19:45 IST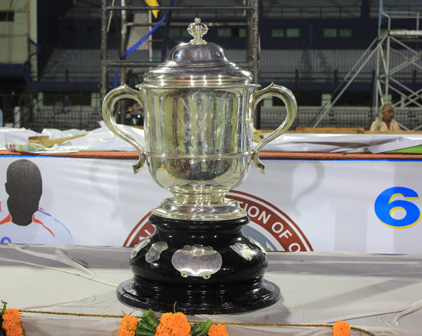 The 69th edition of the National Football Champions for the Santosh Trophy 2014/15 will be played from March 1 to 15, 2015 in Punjab.
In Group A host state Punjab face Assam, Maharashtra, Services and record champions West Bengal; while in Group B Delhi take on defending champions Mizoram, Goa, Kerala and Railways.
The matches of Group A would be played at the Guru Nanak Stadium in Ludhiana, while Group B would be played at the Guru Gobind Singh Stadium in Jalandhar.
FIXTURES
Group A - Ludhiana
01-Mar-2015: Punjab - Assam
02-Mar-2015: Maharashtra - Services
03-Mar-2015: Assam - West Bengal
04-Mar-2015: Services - Punjab
05-Mar-2015: West Bengal - Maharashtra
06-Mar-2015: Assam - Services
07-Mar-2015: West Bengal - Punjab
08-Mar-2015: Maharashtra - Assam
09-Mar-2015: Services - West Bengal
10-Mar-2015: Punjab - Maharashtra
Group B - Jalandhar
01-Mar-2015: Delhi - Railways
02-Mar-2015: Kerala - Goa
03-Mar-2015: Mizoram - Delhi
04-Mar-2015: Railways - Goa
05-Mar-2015: Kerala - Mizoram
06-Mar-2015: Goa - Delhi
07-Mar-2015: Mizoram - Railways
08-Mar-2015: Delhi - Kerala
09-Mar-2015: Goa - Mizoram
10-Mar-2015: Railways - Kerala
Semi-finals
13-Mar-2015: Winner Group A - Runners-Up Group B
13-Mar-2015: Winner Group B - Runners-Up Group A
Final
15-Mar-2015: Winner SF1 - Winner SF2