'Beckham still mulling Australia move'
1.35K //
22 Nov 2012, 17:09 IST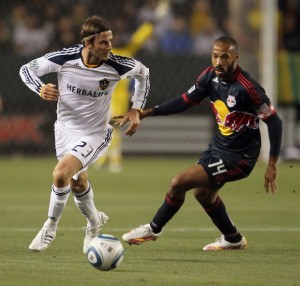 Melbourne - David Beckham remains in talks with several Australian sides after announcing his departure from the Los Angeles Galaxy, Australia football federation boss David Gallop confirmed Thursday.
The ex?England star is in line for a short stint of around 10 games for the second part of the A?League season if he decides to make the switch Down Under.
"At this stage dialogue is still happening between some of our clubs and his camp," Gallop said. "But the important thing about this is a player of his status is even considering being part of our competition."
Beckham, who said he is leaving L.A. after the season?ending MLS Cup final Dec 1, is linked with three clubs: Melbourne Heart, Central Coast Mariners and Perth Glory.
His representatives reportedly denied any contact with the A?League when the first reports emerged last week.
The eighth A?League season kicked off last month and features such big names as Juventus legend Alessandro Del Piero and ex?England striker Emile Heskey, who have both scored five goals in seven starting games.
"It's a great sign of the position the A?League's in. If it comes to pass, great. But we're not counting our chickens in relation to it yet," Gallop said.
Australia is only one of the possible destinations for the 37?year?old. He has been connected with teams in the MLS, the English Premier League and France, as well as more exotic destinations such as the cash?rich leagues of China, the Middle East and Russia.