Bhaichung Bhutia apologises for being sent off in his I-League return
791 //
05 Nov 2012, 08:46 IST
Bhaichung Bhutia's much awaited return as a player in the I-League turned out to be disappointing for him and his fans, as he was sent off within six minutes of his introduction as a second-half substitute in United Sikkim's goalless draw with Pailan Arrows on Sunday.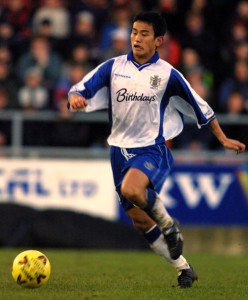 The home crowd at Gangtok's Paljor Stadium was eagerly waiting for the entry of Bhutia, who was named among the substitutes by Belgian coach Phillipe De Ridder. With the deadlock yet to be broken, De Ridder brought on United Sikkim's co-owner in place of Rahul Jaiswal in the 78th minute, and it produced the biggest cheer of the afternoon.
However, the joy of the locals was short-lived as the former India captain saw two yellows and returned to the dressing room in the 84th minute. Bhutia's first booking was a for a late tackle on young Deepak Devrani, and he then received his second yellow for trying to do a Diego Maradona as he handled the ball in an attempt to force a mistake off Arrows goalkeeper Soram Poirei.
Referee CR Srikrishna, who is one of the three AIFF professional referees, showed true professionalism by producing the cards, as in the past we have seen the reputation of a player and occasion of the match get the better of Indian referees.
Bhutia will miss Sikkim's first away match against Prayag United on November 10, but has already apologised for getting sent off in his first I-League match in three years, and that too in front of his home fans.
"I am very sorry to my fans and team. It was the most stupid thing I have done in my career, and it will not happen again. I am very disappointed with myself and I completely regret it," said Bhutia, who last featured for East Bengal in the 2009-10 I-League, as was quoted saying on the United Sikkim official facebook page.