Bhaichung must take charge of India national team one day: Steve Darby
1.09K //
13 Nov 2012, 20:00 IST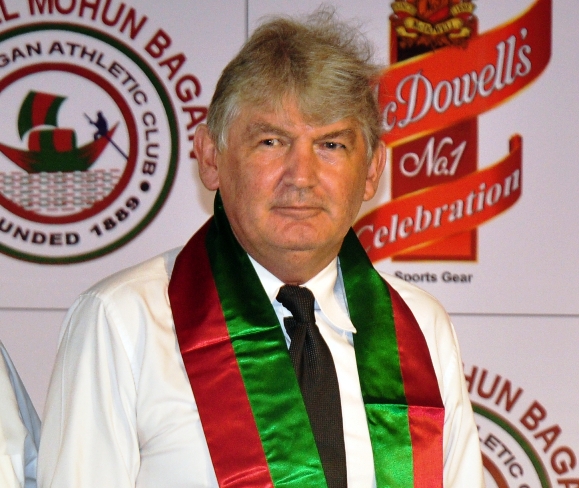 Bhaichung Bhutia is a living legend in Indian football, and his achievements as a player and his personality may never be matched by any Indian footballer in the future. However, it remains to be seen how the Sikkimese Sniper fares as coach.
Will he emulate the likes of Johan Cruyff and Franz Beckenbauer by having a successful coaching career also? Or will it be like Marco van Basten or Diego Maradona, who couldn't match their achievements as players after becoming coaches?
Only time will give us the answers, but Bhaichung for now has the full backing of former Mohun Bagan coach Steve Darby.
"I think he will do well, he has natural leadership skills, knowledge of the game and the respect of the players. A great start to a coaching career," Darby told Sportskeeda.
The Englishman, who tried to sign Bhaichung when he was the coach of Singapore's Home United, stated that the Indian football icon should also be given the opportunity to coach the India national team one day.
"He must (take charge of India one day)! He is the best player they have had, has done wonders for the game with the FPAI and it's a logical step. If I had ever been India's national coach I would have taken him as an assistant and groomed him for the top job. I think players like him and other senior players should be fast tracked and given key roles in the India U17, U20 and Olympic teams.
"The young players respect people who have 'played' and can still involve themselves in training. All junior national teams should have a recent ex-player attached to them. It's a win-win, gaining experience at first without the pressure of the top job," Darby said.
Darby however pointed out that Bhaichung might have to sacrifice even further on his playing time, as it wouldn't be easy having three different roles.
"Yes it will (be difficult to have three roles), and I think his role as a player may have to diminish and become a substitute role. I have been a player-coach, and its hard to draw the line between player and boss! And having to drop your mates is not easy, but you have to do it sometimes.
"He must have realistic goals. Keep United Sikkim in the I-League and build from there. It may be advisable to get someone to take the physical aspect of training and he concentrates on tactical concepts," said the former Thailand U-23 coach.
The 57-year-old also advised Bhaichung to complete his coaching badges and get some experience at United Sikkim before taking coaching roles at a top club.
"He should always get the licences, and taking United Sikkim will be a great experience. The job now involves handling players, media and committee men! A complex role and add to that in India the growing phenomenon of social media and its becoming a very tough role. But he has the ability plus he has the key aspect of understanding the football culture. Like Zico (Kiatisuk Senamuang, former Thailand international) in Thailand, he had the guts to play abroad and get out of his comfort zone and he will have learnt from his playing abroad stints."