Brazil Masters arrive in Kolkata sans Roberto Carlos
3.84K //
07 Dec 2012, 21:11 IST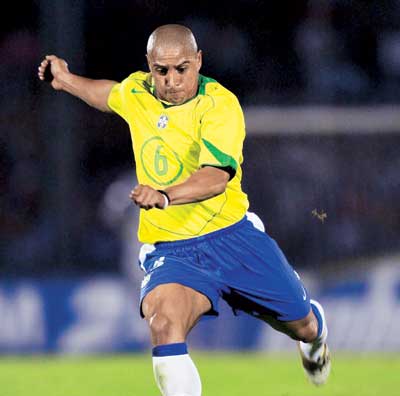 A team of former Brazilian greats arrived in Kolkata on Friday morning for the exhibition match against IFA All Stars on Saturday but 2002 World Cup winner and Real Madrid legend Roberto Carlos is not part of the travelling squad.
As per rules, players who haven't retired more than 30 months before the scheduled date of any match need to be given clearance by FIFA to feature in that match. Thus doubts were raised regarding the participation of Roberto Carlos, who only retired in August 2012 and Edmilson, who retired last year.
It seems the organisers have been given special permission to allow Edmilson but Roberto Carlos' case wasn't considered.
"Unfortunately Roberto Carlos has not been cleared to play in this game so he hasn't come," West Bengal sports minister Madan Mitra told the reporters.
The other greats who have come and are set to feature in Saturday's match include Dunga, Bebeto, Juninho Paulista, Mauro Silva, Aldair etc. with former Colombia goalkeeper Rene Higuita, who will play for the IFA All Stars, having already arrived on Thursday.
All the members of the Brazil Masters team addressed the media in a chaotic press conference on Friday evening with 1994 World Cup winning captain Dunga saying, "Getting all of us together brings back memories of our time in the national team."
Former Middlesbrough player Juninho Paulista, who was the only player speaking fluently in English because of his playing time in England, revealed that the legends do play together in seven-a-side tournaments in Brazil two-three times a year.
SCOLARI RIGHT CHOICE
Juninho also supported the Brazil federation's decision to make Luiz Felipe Scolari the new national head coach.
"He is the perfect choice as he has the experience and can bring the best out of the national team," he said.
Bebeto, a star of the 1994 World Cup, also backed the decision to hire Scolari, saying, "He has won the World Cup once and has the mentality to do it again. Of course playing at home brings pressure but it will also give us home advantage to bank on."
Juninho tipped Messi to win his fourth straight Ballon d'Or and stated the Brazilians will also appreciate his class in the 2014 World Cup.
"Messi can win it (Ballon d'Or) again for sure and can break Gerd Mueller's goal scoring record also. We Brazilians like good ball players so they will like Messi also, but of course not when he plays against Brazil," he said with a smile.