Bundesliga side TSG 1899 Hoffenheim to tour India
Adamant Sports Management AG is pleased to announce that German Bundesliga side TSG 1899 Hoffenheim will be touring India in May 2014. The team will visit Aizawl, Kolkata and Goa as part of a season-ending tour.The 2014 India Tour organised by Switzerl...
News
02 May 2014, 03:00 IST
3.84K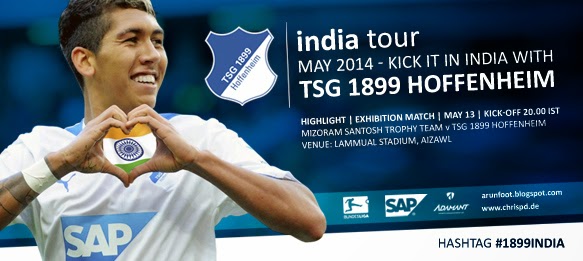 Adamant Sports Management AG is pleased to announce that German Bundesliga side TSG 1899 Hoffenheim will be touring India in May 2014. The team will visit Aizawl, Kolkata and Goa as part of a season-ending tour.
The 2014 India Tour organized by Switzerland-based Adamant Sports will be TSG 1899 Hoffenheim's first visit to India and it will mark a new milestone in the prosperous relationship between the Bundesliga and Indian football.
TSG 1899 Hoffenheim will travel to Aizawl to take on the Santosh Trophy winning Mizoram State Team in an exhibition match on Tuesday, May 13. The exhibition match will be played under floodlights at the Lammual Stadium and it will be telecasted live nationally on DD Sports and locally in Mizoram on ZONET.
Alexander Rosen, Sports Director, TSG 1899 Hoffenheim, said: "We are pleased to commence this journey as an international ambassador for the Bundesliga and to step up sustainable and socially relevant projects. Our young team will gain new important cultural and social experiences."
The Mizoram Football Association secretary Lalnghinglova Hmar said, "It's the biggest football match happening in the state. Everyone in the state, not only the football fans, are looking forward to Hoffenheim's arrival in our state."
"We would like to thank the Bundesliga, Hoffenheim and Arunava Chaudhuri's team at Adamant Sports for thinking about us to play a match in India."
"We at Mizoram Football Association are honoured and will field the best possible Mizoram XI to face Hoffenheim at the Lammual Stadium in Aizawl."
Arunava Chaudhuri, Project Manager, Adamant Sports Management AG, said: "Adamant Sports is delighted to bring TSG 1899 Hoffenheim to India and to the football lovers in the country."
"The Bundesliga has an increasing fan base in India and we are happy to present one of the upcoming teams in the league to the football-crazy fans in Mizoram, who will be able to see Bundesliga stars from close quarters."
"Adamant Sports would like to thank the Government of Mizoram and the Mizoram Football Association for their support to make the exhibition match possible besides Hoffenheim for wanting to come to tour India, not only to play but also for a social cause."
TSG 1899 Hoffenheim will also conduct football clinics for children in Aizawl, Kolkata and Goa during the one-week long 2014 India Tour.
The Bundesliga and German multinational software corporation SAP are the Presenting Partners of TSG 1899 Hoffenheim's 2014 India Tour.
Football fans addicted to social media will be able to follow and to be part of the football extravaganza on the various platforms with the use of the official hashtag #1899INDIA.
About TSG 1899 Hoffenheim
TSG 1899 Hoffenheim is a Bundesliga club based in Hoffenheim, a suburb of Sinsheim, in the south-western German state of Baden-Wurttemberg. The club was founded on July 1, 1899 as a gymnastics club named TV Sinsheim with 20 members, while a football section was established between 1921 and 1923. The club decided to merge the gymnastics and football sections after the end of the Second World War in 1945 under its new name TSG 1899 Hoffenheim.
The football club played in the Kreisliga A, the 9th Division in German football, when it experienced a boost in the 1989-90 season with SAP co-founder Dietmar Hopp deciding to support the club. TSG 1899 Hoffenheim witnessed a steady progress over the years and pushed to professional football with its promotion to the 2nd Division after the 2006-07 season. The club gained promotion to the 1st Division Bundesliga in its debut season itself and has been a regular part of the top tier of German football since the 2008-09 season.
About Adamant Sports Management AG
Adamant Sports Management AG is an international agency for successful sports careers and sports projects. Adamant Sports pools from its head office in Zurich, Switzerland the competencies of a broadly diversified network in order to turn ambitious goals and unusual ideas into reality.
Adamant Sports offers a wide range of services in the sports business including the management, consultancy and support for athletes, talents and sports organisations, marketing, purchasing, sales, management and organisation of sports rights and sporting events.